BMW M3 by ATT-TEC
An open top BMW M3 with 520 hp at hand, you say? Try the ATT-TEC guys from the city of Rastatt in Baden. They might just have what you are looking for. Oh, look! That matte black, rather inconspicuous looking thing here does fit the picture – 520 hp! Okay, so how do they do it? Simple. Spend a bag of money on it and then when you think it's had enough, spend some more.
That orange bulk over the engine looks like an alien that's sapping away the power of the engine but in fact, it's the other way round – That's a compressor kit by G-Power that costs €11,430 ($15,013). It does however, do the job by itself. It adds 100 hp on top just like that. 2 x 90 mm diameter stainless steel mufflers provide the appropriate escape route of the exhaust but that costs a further sum of €1,455 ($1,904).
The suspension has been overhauled with an Inox Line III Variant coilover kit which cost another €1,929 ($2,524). Then there are the wheels – Vredestein Ultrac Sessanta tires, 245/30R20 at the front and 295/20R20 at the back, wrap themselves around a set of one-piece forged ADV.1 wheels 8,5x20 and 11x20 respectively. But before they can start rolling, one has to pay the staggering sum of €7,150 ($9,356) for them.
Enough money to make your head spin? Maybe, but obviously not enough for the complete program. Throw in €2,600 ($3,402) more and you get a two colored special filming complete with a carbon wrapping foil. Final summation: the whole thing will set you back with €26,573 ($34,773) in total (including installation costs). Steep, but ATT-TEC are adamant that "individuality has its price".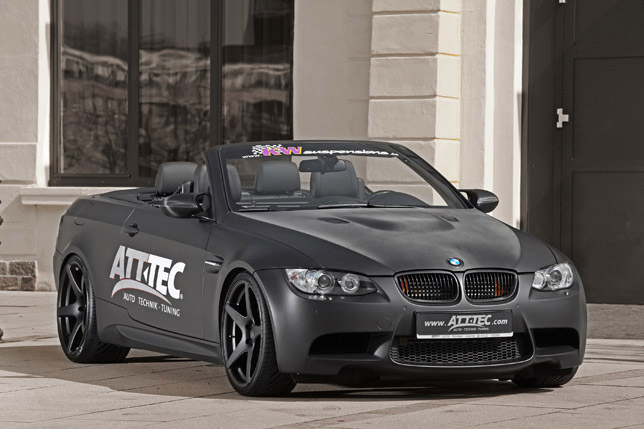 Source: Miranda-Media