BMW M5 by AC Schnitzer
When the latest BMW M5 came out, it was the definition of balance between mad performance and everyday sedan practicality. Now the Aachen-based AC Schnitzer want to tip the scales in faveor of more power, more sportiness and more flamboyancy. It's the ACS5 Sport Saloon.
To start off, they added an additional control unit on the engine that boosts the power to 620hp. The engine's torque output is also increased to 790Nm. Zero to sixty now takes 4.1 seconds. An AC Schnitzer twin sports silencer with valve control provides the sound to match the grunt. Chromed "Sports Trim" tailpipes enclose the Schnitzer carbon rear diffuser.
That brings us to aerodynamics. The diffuser plus the carbon front spoiler, rear roof spoiler and rear spoiler provide necessary down force which is there to tame the fresh power. In the mean time, a chromed front grille, "Magic Blue" and silver livery, AC Schnitzer badges for the side and an AC Schnitzer logo "ACS5 Sport" visually complete the aerodynamic power pack.
The suspension has been slightly tweaked as a new AC spring kit replaces the standard one. There is also a generous choice of wheels. 20-inch Type V forged alloy wheels or Type IV BiColor rims in the same size. The third option involves a set of bigger, 21-inch Type VIII racing and forged alloy rims.
"Magic Blue" is the prevailing theme inside. A "Black Line" aluminum cover for the "i-Drive" system controller and aluminum pedals add some contrast. The footrest also matches the pedals while the floor mats are in velours.
So if you ever want more from your BMW M5, AC Schnitzer is the company for you.
Full specs bellow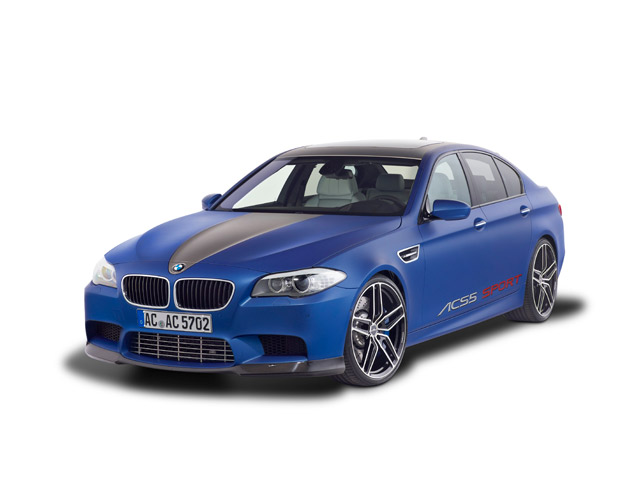 Basic car:
BMW M5 (F10)
Engine:
AC Schnitzer performance upgrade -
Performance: 456kW/620hp (standard: 412kW/560hp)
at 6300rpm (standard: 6000-7000rpm)
Maximum torque: 790Nm (standard: 680Nm)
at 3000 rpm (standard: 1500-5750rpm)
Maximum speed: 305 – electronically limited
0 - 100 km/h: 4,1 seconds (standard: 4,3 seconds)
AC Schnitzer engine optics
AC Schnitzer engine compartment optics
Exhaust:
AC Schnitzer twin sports rear silencer with
valve control and chromed "Sports Trim" tailtrims
Suspension:
AC Schnitzer spring kit, lowering approx. 25 mm
Aerodynamics:
AC Schnitzer carbon front spoiler
AC Schnitzer front grille, chromed
AC Schnitzer vitro emblems for side walls
AC Schnitzer rear roof spoiler
AC Schnitzer rear spoiler
AC Schnitzer carbon rear diffuser
AC Schnitzer emblem "ACS5 Sport", side right/ left
Vehicle wrap BiColor "Magic Blue" - Silver
Interior:
AC Schnitzer aluminium cover, "Black Line"
for BMW "i-Drive" system controller
AC Schnitzer aluminium pedals
AC Schnitzer foot rest
AC Schnitzer floor mats, velours
Interieur panels and steering wheel insert wrapped in "Magic Blue"
Wheel/Tyre sets
AC Schnitzer Wheel/Tyre set with
Type VIII Racing Forged Wheels
front: 9,0J x 21" with tyres 255/30 R 21
rear: 10,0J x 21" with tyres 295/25 R 21
AC Schnitzer Wheel/Tyre set with
Type VIII Lightweight Forged Wheels
front: 9,0J x 21" with tyres 255/30 R 21
rear: 10,0J x 21" with tyres 295/25 R 21
AC Schnitzer Wheel/Tyre set with
Type V Lightweight Forged Wheels
front: 9,0J x 20" with tyres 255/35 R 20
rear: 10,0J x 20" with tyres 285/30 R 20
front: 9,0J x 20" with tyres 265/35 R 20
rear: 10,0 x 20" with tyres 295/30 R 20
AC Schnitzer Wheel/Tyre set with
Type IV BiColor
front: 9,0J x 20" with tyres 255/35 R 20
rear: 10,0J x 20" with tyres 285/30 R 20
front: 9,0J x 20" with tyres 265/35 R 20
rear: 10,0 x 20" with tyres 295/30 R 20
Source: AC Schnitzer