AC Schnitzer BMW 4-Series Gran Coupe is the Perfect Blend of Performance and Comfort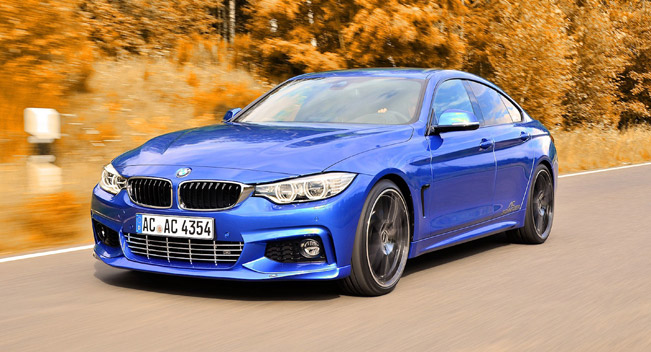 AC Schnitzer BMW 4-Series Gran Coupe combines perfectly the sporting performance of a coupe with the comfort of a saloon. The tuning package first delivers enhancements to the exterior.  Take a look at the new front spoiler and rear diffusor, which provide better ground adhesion. The carbon mirror covers, chromed front grille and rear skirt protective film prove that this car is the perfect blend between sporting performance and comfort.
Inside, AC Schnitzer gave the interior additional comfort. There are the new aluminium handbrake handle in "Black Line" style, the gear knob with digital gear display, the illuminated leather gear knob or the aluminium "Black Line" gear knob. The aluminium pedal set and foot rest, AC Schnitzer keyholder and foot mats in velours round out the interior improvements.
There are various wheels to choose form for the BMW 4-Series Gran Coupe. The Aachen tuners offer a choice of four different types: Type VIII forged alloys in BiColor, Type VIII rims in BiColor (black, silver or anthracite), Type IV wheels in silver or BiColor, and Type IV rims in BiColor black.
In terms of engineering, this BMW received various performance upgrades. The AC Schnitzer version of the 428i develops 294 hp (216 kW), while the 435i produces 360 hp (265 kW). In addition, the 420i now offers 245 hp (180 kW).
The diesel engines were also uprated and their figures are the following: 420d now delivers 218 hp (160 kW), the 430d and 435d generate 309 hp (227 kW) and 360 hp (265 kW), respectively. There is also available AC Schnitzer intercooler for the petrol engines as well as engine styling for all versions.
The enhanced power output is further underscored by the throaty sound of the AC Schnitzer silencer. It comprises of two chromed tailpipe trims, which comes in a choice of "Racing Evo", "Racing" or "Sport" style, in right/left combination.
At last, the sports suspension here is a first-class setup, lowering the front axle by 10 - 25 mm and the rear by 5 - 15 mm. There is also an available suspension spring kit, which lowers the 4-series by up to 25 mm at the front and brings the rear 10 - 25 mm closer to the ground. The AC Schnitzer racing suspension ensures spirited cornering and delivers 30 - 40 mm lowering on the front and 25 - 40 mm on the rear.
Source: AC Schnitzer