BMW RS/M235i Green Hell by RS-Racingteam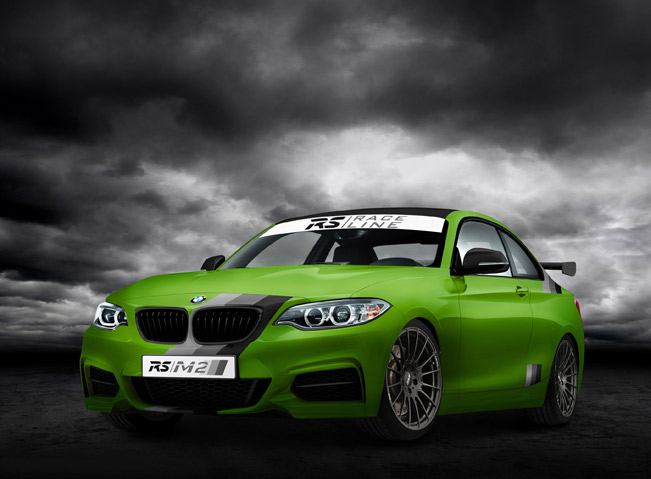 We have a racing car spree on our hands here. This is a very green BMW 2 Series coupe. And it's not the save-the-planet type of green but more toxic spill green. The guys who have come up with it are from the German-based RS-Racingteam joint (responsible also for this). They've called it the BMW RS/M235i Green Hell Edition.
If we push aside the toxic wrapping, the first thing that catches your eye is the 18-inch ATS set of rims (different, BBS ones are also available). They come tailored with either Michelin semi-slicks or with a wet/street set of different tires measuring at 225 or 245 front and back respectively. The overall low stance is due not only to the low tire profile, but also due to the added KW Clubsport coilover kit. The stopping power too benefits from racing Ferodo pads, steel flex tubes and a special sports braking fluid. At the back, there should be two Supersprint tail pipes made of stainless steel
In terns if aerodynamics, the RS/M235i packs a giant GFK rear wing and some bigger vents at the front (better brake ventilation).
The interior has been almost entirely stripped out. Carbon fiber panels on the doors house nothing but hand straps and the power window controls (yes, you still get electric windows). There's a racing bucket seat behind the three-spoked momo racing wheel. There's a passenger bucket seats as well. Both house a 6-point belt system. There are no floor mats, a safety cage ensures structural rigidity, and a special in-the-cabin fire extinguisher system can be found in the passenger footwell. The engine and gearbox have had special brackets installed so that you can find them where you left them after a vigorous race.
For that little extra something, you can add some oomph under the hood, but that you'll have to discuss in person, apparently.
Source: RS-Racingteam