BMW X6 M boosted to 680 HP and 849 Nm by Madness Motorsport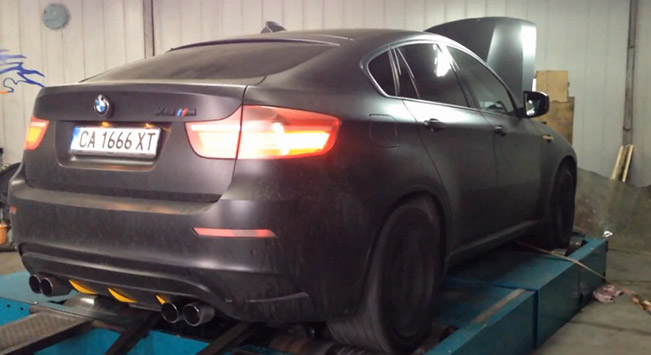 Since the attention of every BMW fan has been conquered by the new BMW X6 M which was introduced just yesterday, let's go back a bit and look at the old one… a special one.
Initially, the previous X6 M is propelled by a monstrous 4.4 liter twin-turbocharged V8 engine which produces 555hp (408 kW) at 6000RPM and 680Nm (502 lb-ft) of torque at just 1500RPM. The power is transmitted to the road through the dynamic xDrive four-wheel-drive system. What is more, the performance of the car is mind-blowingly good. It speeds up to 100 km/h in just 4.7 seconds, and achieves acceleration to 200 km/h in 16.9 seconds. The top speed is of 250 km/h (155 mph) – electronically limited.
Impressive as it is, with the enhancements delivered by the Bulgarian tuning company Madness Motorsport the previous version BMW X6 M gets even better performance results. According to the owner of the car, who informed MM, the car was too quiet and too slow. Solution? Customized refinement! The updates that the X6 M received were comprised of custom downpipes, deCat & custom exhaust system and ala grande Madness Motorsport Software. With the new upgrades the car is able to produce 680hp (500 kW) and 849 Nm (626 lb-ft) of torque. The beast just got even beastlier.
Check the link bellow to see what the customized BMW X6 M looks like... and sounds like.
Source: Madness Motorsport