Brabus 850 S based on 2014 Mercedes-Benz S 63 AMG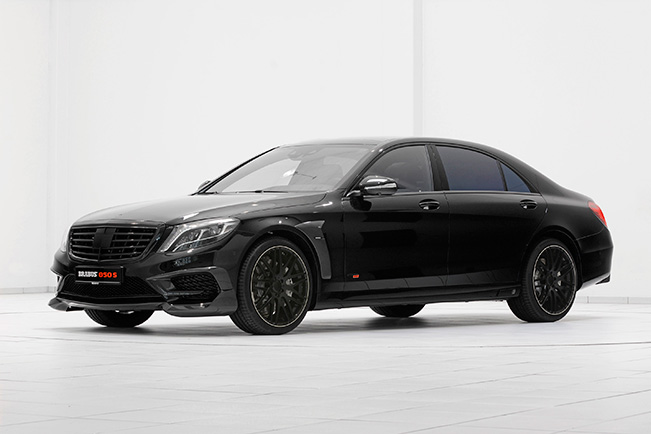 Brabus is proud to present the most powerful and fastest all-wheel drive sedan in the world – the 850 S based on the latest 2014 Mercedes-Benz S63 AMG. It is capable of doing 350 km/h (218 mph) and to accelerate 0-100 km/h in just 3.5 seconds.
Brabus 850S comes with complete aerodynamics package and drastically improved power. The bi-turbo V8 engine is enlarged to 6.0 liters thanks to increasing the cylinder bore to 99mm and stroke of 96mm. Two new special turbochargers by Brabus and modified exhaust manifolds are also present. The result is spectacular – 850HP (625 kW) at just 5,400RPM and a maximum torque of 1,450Nm (1,069 lb-ft), which is limited to 1,150Nm (848 lb-ft) to protect the gearbox. Speaking about it – a modified SPEEDSHIFT MCT 7-speed sports transmission sending the power to 4MATIC AWD. A Brabus limited-slip differential with a locking rate of 40 % is available as an option.
The performance is insane, considering the dimensions and weight of the luxurious saloon – 0-100 km/h in 3.5 seconds and a top speed of 350 km/h (218 mph). The fuel consumption is a real surprise - 13.8 l/100 km in city; 7.9 l/100 km on the highway and a combined cycle of 10.1 l/100 km with CO2 emissions of 237 g/km - efficiency class E.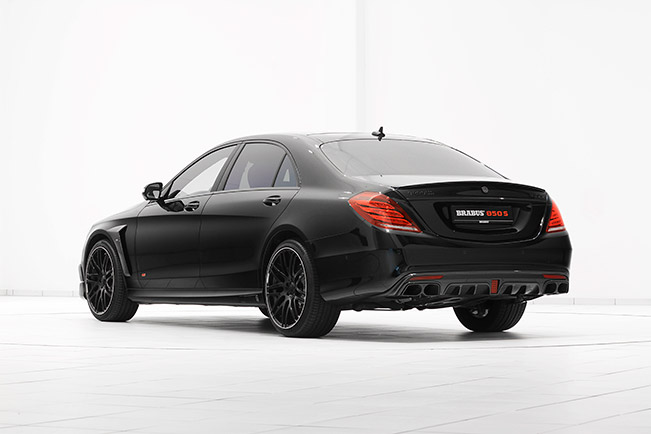 The exterior of Brabus 850S features a complete aerodynamics package including a new front spoiler lip and front bumper attachments. The front fenders also come with a Brabus design elements made of clear-coated carbon fiber. The integrated Brabus logo is optionally available in a backlit version whose illumination is activated by operating the remote control or by pulling on a door handle. Last, but not least are the rear spoiler lip, the rear bumper with tailor-made cutouts for the Brabus sports exhaust and integrated diffuser made of clear-coated carbon fiber, and the rear spoiler.
The professional tuner offers a huge choice of tailor-made monoblock alloy wheels in different sizes – 19", 20", 21" or even 22". The forged Brabus Platinum Edition come in size 9J x 21" at the front and 10.5J x 21" at the rear axle fitted with 255/35 ZR 21 and 295/30 ZR 21 tires, respectively.
To further enhance the high level of dynamic handling of the high-performance luxury sedan, BRABUS has developed a special control module for the air suspension of the S-Class. It lowers the ride height of the BRABUS 850 S by 15 mm without impairing the outstanding ride comfort.
The interior comes with a striking combination of black and vanilla leather. But it is not only its tasteful color scheme that makes the interior stand out, but also its design with perforated sections and seat side bolsters quilted in the same patterns as the Brabus leather floor.
Source: Brabus