Buick Lacrosse CXS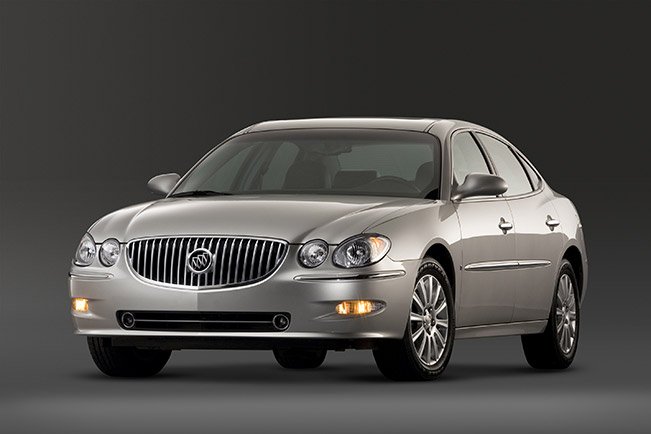 Buick will freshen its 2008 LaCrosse line with the new face of Buick – a front-end design inspired by the Velite convertible concept – and an elevated list of standard equipment across all LaCrosse models.
Like the recently introduced Buick Enclave luxury crossover and Super models, the 2008 LaCrosse features a more distinctive front end. The new design brings the 2008 LaCrosse sedan in line with a common Buick family appearance. The fascia, hood and chrome waterfall grille are new. The 2008 model will also offer four new exterior colors, including Scarlett Red, Gold Mist Metallic, Dark Mocha Metallic and Dark Slate Metallic.
Inside, the '08 LaCrosse continues to offer a well-equipped, comfortable and quiet interior. More comfort and convenience features are now standard for CX, CXL and CXS models for 2008. The LaCrosse CX, for example, is a richer entry-level car, adding a leather-wrapped steering wheel, theft deterrent system, illuminated vanity mirrors, driver information center personalization and more. All trim levels now have a chrome exterior appearance package, factory remote start feature, XM Satellite Radio, telescoping steering wheel column, redundant steering wheel controls and dual-zone climate control as added standard equipment.
"LaCrosse really started the evolution to the new Buick you see today," said Buick General Manager Steve Shannon. "It introduced a new direction for Buick cars, with great design, performance and fuel economy with a premium and quiet interior. Indeed, LaCrosse set the foundation for the new Buick."
The LaCrosse line now offers three powertrains. The CX and CXL trims are powered by the 3.8L V-6, now in Series III form. With more than 25 million sold, it is one of the most proven and reliable engines in the industry. Rated at 200 horsepower (149 kW), the 3.8L features electronic throttle control to improve engine response and optimize fuel efficiency, along with upgrades for quiet operation.
The performance-oriented LaCrosse CXS has a standard 3.6L V-6 with variable valve timing that delivers 240 horsepower (179 kW). The premium, all-aluminum engine features dual overhead camshafts and four valves per cylinder. Its fully variable intake and exhaust valve timing achieves outstanding flexibility, delivering 90 percent of the engine's peak torque where it is most useful, between 1,500 rpm and 6,000 rpm. The 3.6L VVT delivers a market-leading balance of good specific output, high torque over a broad rpm band, fuel economy and first-rate noise vibration and harshness control.
The recently announced 2008 LaCrosse Super introduces a V-8 engine and portholes to the LaCrosse lineup. With the fuel efficiency of a V-6, the new 300-horsepower (224 kW)* 5.3L small-block V-8 with Active Fuel Management (AFM) technology can propel LaCrosse Super from 0-60 mph in 5.7 seconds. GM's AFM engine technology seamlessly switches between four- and eight-cylinder power to save fuel.