Burton Racing BMW 128i - Street Tuner Victory at Road America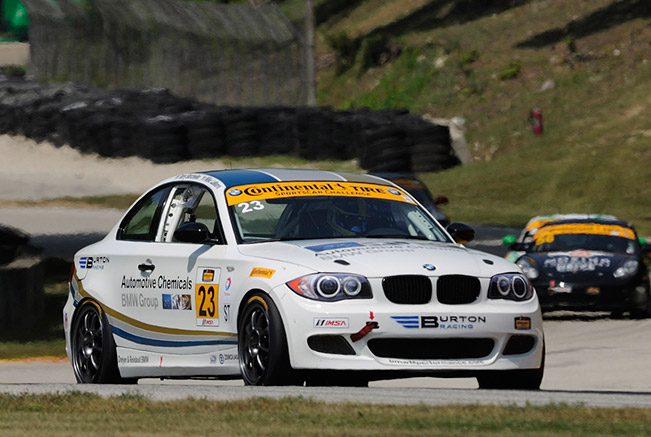 BMW 128i Coupe managed to scoop the first ST victory of the 2014 Continental Tire Sports Car Challenge season in Saturday's 2.5-hour race at Road America, in Elkhart Lake. It was piloted by the 2013 Street Tuner class champions - Terry Borcheller and Mike LaMarra.
BMW drivers also scored fifth, sixth, seventh and eighth place Street Tuner class finishes. Bimmerworld Racing's three 328i machines finished fifth, seventh and eighth. Ted Giovanis and David Murray finished sixth in the No. 64 Team TGM 328i. Logically, the result moved BMW to the top of the Manufacturer's points standings.
"We've been closing in on the podium throughout the season and got very close to a win at Indy," commented Keith Burton, Burton Racing Team Principal.
"It is extremely satisfying to win here at Road America and validates all of our hard work this year. I believe we are back in a position where we can fight for another championship for BMW.", he added.
the No. 46 Fall-Line Motorsport BMW M3 of John Edwards and Trent Hindman finished 4th. The car started from the pole and led 18 laps of the 54 lap contest, only 1.768 seconds separating the car from the winner at the checkered flag. The next best finishing BMW M3 was the No. 97 Turner Motorsport car of Tom Kimber-Smith and Michael Marsal in 13th.
"Congratulations to Mike and Terry and the entire Burton Racing team on their return to the podium and their first Street Tuner win of the season," said Gordon McDonnell, BMWNA Motorsport Manager.
"In Grand Sport, both John and Trent put up a great fight in the Fall-Line Motorsport BMW M3 to finish fourth, but the new Camaro seems to have a distinct advantage in the class.", he finished.
Source: BMW