2014 Cadillac ELR Equipped With EREV Propulsion System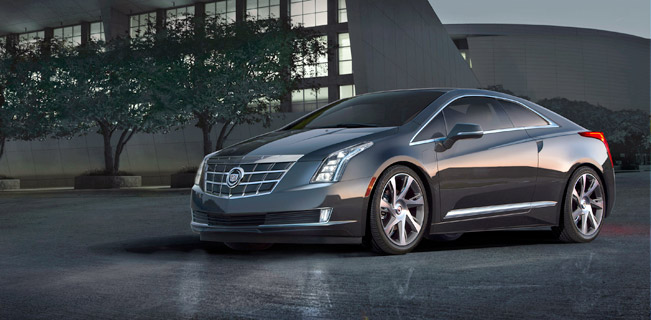 2014 Cadillac ELR is brands upcoming electrified luxury coupe designed to exceed the expectations of drivers for a hybrid and electric cars to have advanced battery and drive systems that make smart use of energy. The new model will also provide engaging and at the same time responsive driving dynamics due to its inherent advanced suspension and steering systems.
These technologies eature front HiPer Strut suspension, rear compound crank with Watt's link suspension, a premium ZF electric power steering system and ZF-Sachs continuous damping control.
Furthemore, the ELR is equipped with industry-leading Extended-Range Electric Vehicle (EREV) propulsion system. The latter generates 295 lb-ft (400 Nm) of instantly available torque. If the driver selects the Sport mode, the reconfigured accelerator pedal provides quicker torque application and more sensitive feedback through altered suspension and steering settings.
The driving other model offered by the ELR are Tour, Hold and Mountain. In order to reduce the torque steer caused by the amount torque available, the engineers relied on a HiPer Strut front suspension. The HiPerStrut also enhance the front axle grip in the moment of cornering due to optimized tire contact with the road; it also contributes to ELR's precise, communicative and linear steering feel, and minimizes unwanted steering system disturbances over rough roads.
For the rear suspension, in the ELR is utilized a Watt's link, which is created in order to center the car's rear axle during turns and to provide a more balanced driving experience. When the car is cornering, the Watt's link delivers greater lateral stiffness thus giving the vehicle the ability to respond to the situation more positively to the steering inputs. In addition it also helps keep the rear suspension aligned with the front suspension.
Moreover, 2014 ELR's premium electric power steering system is created with the aim of providing excellent feedback while at the same time - saving fuel. The energy is consumed by the rack-mounted, dual-pinion system only when the vehicle is actively steered.
When the driver selects the Sport mode, the car's steering gear delivers enhanced on-center sharpness and steering sensitivity in order to bring about more dynamic steering. When the more relaxed Tour mode is selected, it allows precise control with less driver steering efforts.
In addition, the new Cadillac model will deliver its occupants quieter experience, thanks to the isolated four-mount front cradle. It also reduces the noise and vibration, and enhances the ride-and-handling dynamics. Specifically tuned mounts are tailored to the engine's inherent torque axis, decreasing the transfer of vibration and noise into the cabin.
2014 Cadillac ELR is going to be available in showrooms in the beginning of next year. ELR is the first vehicle which offers Extended Range Electric Vehicle technology. Thanks to it, the new model has a full driving range exceeding 300 miles (480 km), combining pure electric driving and a range-extending generator.
Source: Cadillac