Cadillac Twin-Turbo - 3,000HP vs Chevrolet Corvette Twin-Turbo - 3,000HP [video]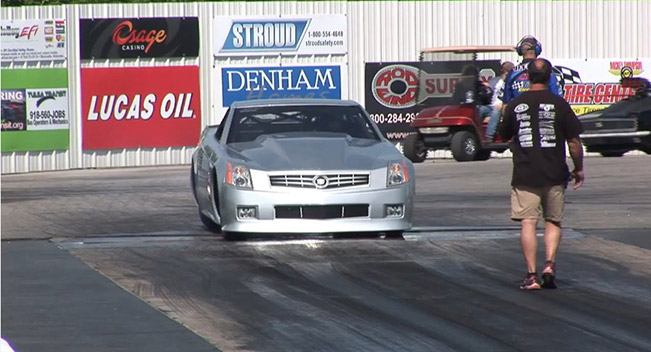 Urbanhillbilly has published an impressive video on Youtube showing a drag racing between two insane vehicles – Cadillac XLR Twin-Turbo with 3,000HP and Proline Chevrolet Corvette Twin-Turbo also with 3,000HP. The race is at 1/8 mile, instead of the usual ¼ mile and the results are still impressive.
The Cadillac finished in 4.29 seconds with a trap speed of 188.25 mph (302.9 km/h), while the Corvette won with a time of 4.20 seconds and a trap speed of 185.54 mph (298.5 km/h).
Although the cars are extremely fast, there is something else that caught our attention. The Cadillac comes not only with over 3,000HP, but with power windows as well. Usually, drag cars are completely stripped to save weight, but the Cadillac might be street legal with normal tires and some minor upgrades. The Corvette on the other hand doesn't have windows at all and interior as well, so it has to be a lot lighter helping it to win.
The Twin Turbo Cadillac XLR is driven by Scott Lowery, while the Proline Twin Turbo Chevrolet Corvette has Mark Woodruff behind the steering wheel. The spectacular battle is held on the famous Tulsa Raceway Park.
Enjoy!
Source: Cadillac