CAM SHAFT Porsche 997 Turbo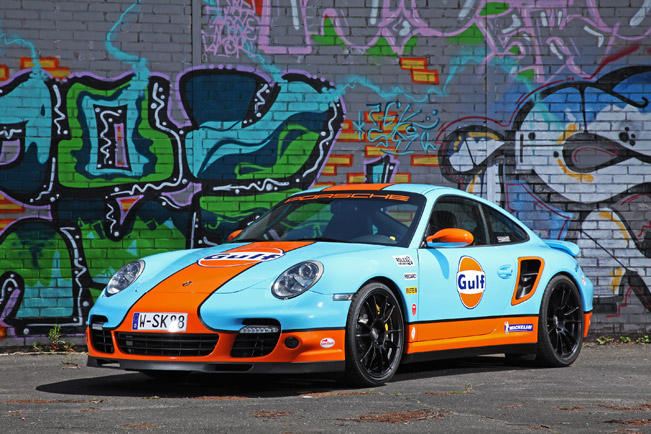 Cam Shaft has announced their latest project based on Porsche 997 Turbo. The 6th generation of 911 comes with both styling and performance upgrades.
The exterior boasts two colour extremely complex retro - design foliation in a balanced interplay of light blue and orange accounts. The price is €2,800 and upon request, the door sills and visible edges can be foiled, too for €700.
The performance modifications include sports exhaust system with Sportkats and headers, larger intercooler, air filter, fuel pressure regulator. There is also an ECU re-map for perfect results.
Cam Shaft 997 Turbo is powered by a 3.6 liter turbocharged flat-six with 650HP (478 kW) and 800Nm. 0-100 km/h in 3.8 seconds, 100-200 km/h in 6.0 seconds and 100-300 km/h in 20.3 seconds.
In addition, 65 kg weight could be saved for better acceleration and handling.
A height adjustable suspension from Bilstein and the set of rims OZ-Ultralegera benefit driving dynamics. In terms of interior upgraded bucket seats are also to mention.
Source: Cam Shaft