Porsche 997 GT3 RS vs 991 GT3 ft. Sabine Schmitz [video]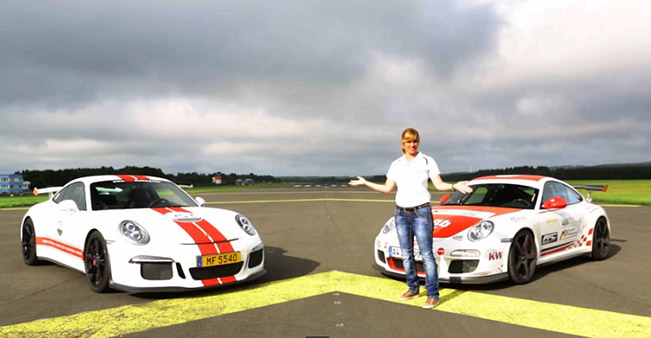 Here is an awesome video featuring Sabine Schmitz and her private Porsche 997 GT3 RS going against the new 991 GT3. The "Queen of the Nürburgring" seems very curious to check how fast is the updated sports car.
Still, she has some "trump-cards" in her sleeve like a KW competition suspension and an uprated braking system. However, this doesn't help during the drag race between two sport cars.
The new 991 GT3 simply obliterates its predecessor, which is powered by a 3.8 liter naturally-aspirated six-cylinder boxer engine – 450HP (331 kW) at 7,900RPM and 430Nm (317 lb-ft) of torque at 6,750RPM. The engine is connected to a 6-speed manual gearbox sending the power to the rear wheels. 0-100 km/h in 4.0 seconds and a top speed of 310 km/h (192 mph). The curb weight is 1,445 kg (3,186 lbs).
The 991 GT3 has an updated 3.8 liter boxer engine with 474HP (349 kW) and 440Nm (326 lb-ft) of torque. The engine is connected to a 7-speed PDK automatic transmission sending the power to the rear wheels. Although the car is 60 kg heavier than Sabine's car, it does ¼ mile in 11.2 seconds.
"Compared to my car is a rocket!", she commented.
Enjoy!
Source: RSRNurburg via Youtube