Cam Shaft Renault Clio RS as Ringtool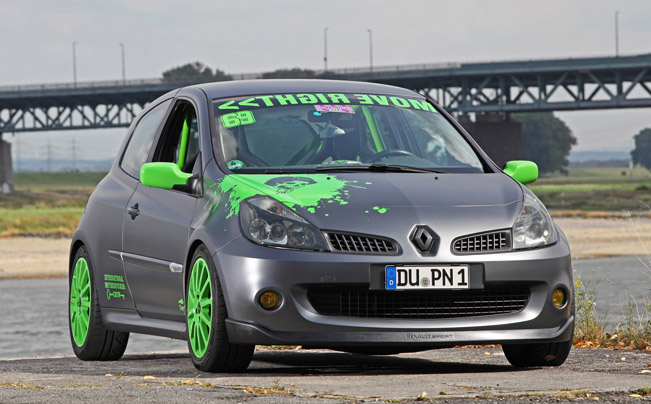 Renault Clio RS has just been chosen by the foiling company Cam Shaft as a ringtool. And if you aren't aware what this term means – this is a vehicle which is taken just for fun of driving on racing circuits.
In this case the surface of the Renault has been foiled in matt Graphite Metallic, and the exterior mirrors are in green paintwork. Here the motor hood is very interesting, because when you look at it, it seems like that a can with green paint has accidentally fallen over it. As the slice wedge, an incitement MOVE RIGHT is affixed, but in green mirror writing.
The Clio RS originally comes with 17 inch RS rims. However, they have been powder-coated in green and covered with semi-slick tires from Kumho in 215/45. In combination with a coil-over suspension by H&R with Nurburgring North Loop tuning, a special kind of driving dynamics is achieved.
Another important highlight here is the modification done on the driving dynamics. The power has been enhanced to 225 hp (165 kW) and 250 Nm (185 lb-ft) of torque. In addition, there has been also installed a sports air filter by K&N. In fact the entire exhaust system has been modified with ingredients from Supersprint: bends, 100-cell sport catalysts and both the middle and the rear muffler are from Mantova.
The front part of the brake system has been replaced with the one from Renault Megane II. Combined with the stainless steel brake lines at the front and the rear it delivers optimum deceleration.
At last what is left to be said is that there is a Clubsport cage by Sahler Motorsport which is powder-coated in green, as well as the discreet Stickerbombing in the interior.
Source: Miranda Media