Can Ford's Troller Show Even More Special Version of the T4?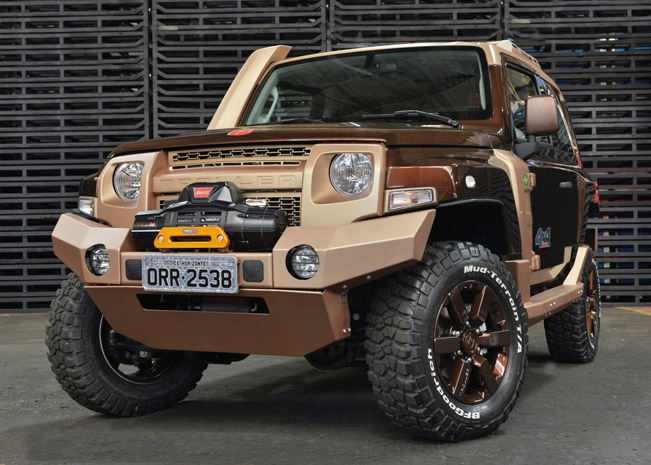 The answer is in Sao Paulo and is called Ford Troller T4 Special Off-Road Concept. What is that special about it? Well, just take a glance at its rugged looks, but if that is not enough – than you should probably consider its increased ability to meet new radical tracks and special operations.
We are speaking about off-roader of course. This means a bunch of strange equipment such as snorkel, winch, steel chest, front bumper, and the typical off-road tires. The special "brounish" adds more glamour to the overall exterior appearance of the car.
Inside, the same shade is used for the interior trim but is also complemented by tan color. The Troller has also received high performance shock absorbers in case you wonder why it looks so stable and robust.
Also noticeable are the new taillights, LED lights on the sides and special tires. The T4 highlights the functionality of the thee-door vehicle. This special off-road version served also as an inspiration for the design of clothing and accessories. Divided into three themes, Copa Troller, Institutional and Vintage, the contemporary trend offers tees with vintage style, sports watches, caps and keychains.
The T4 body is built on a steel frame and it is powered by a 3.2-liter five-cylinder turbodiesel engine. The price it will be available only in Brazil is about $45,000 USD. Unfortunately, the vehicle will never see the US ground.
Source: Ford