Performmaster Mercedes-AMG C63 (S) Receives Significant Power Uprating

Performmaster Mercedes-AMG C63 is the second tuning that we have chosen for you today. It again features the famed German brand, but this time under the spotlight is the sportier AMG C63 model. The main changes here have been done with the aim to achieve more power for the athlete.
To be more precise, Performmaster has created a PEC tuning module for the C63 and C63 S AMG models. After the tuning, these cars show significant power update of up to 612 hp (450 kW) and 840 Nm (620 lb-ft) of torque. Of course, this helps shorten the acceleration time from 0 to 100 kph from 4.1 seconds to 3.8 and from 0 to 200 kph from 12.7 to 11.4.
SEE ALSO: Performmaster Mercedes-Benz AMG GT S is 1.3 Seconds Colser to the 200 km/h
If you take a look of the standard numbers, where the AMG C 63 scores 476 hp (350 kW) and 650 Nm (479 lb-ft), and the AMG C63 S (510 hp (375 kW) and 700 Nm (516 lb-ft), this means that the uprating is more than additional 28% hp and 29% Newton meters.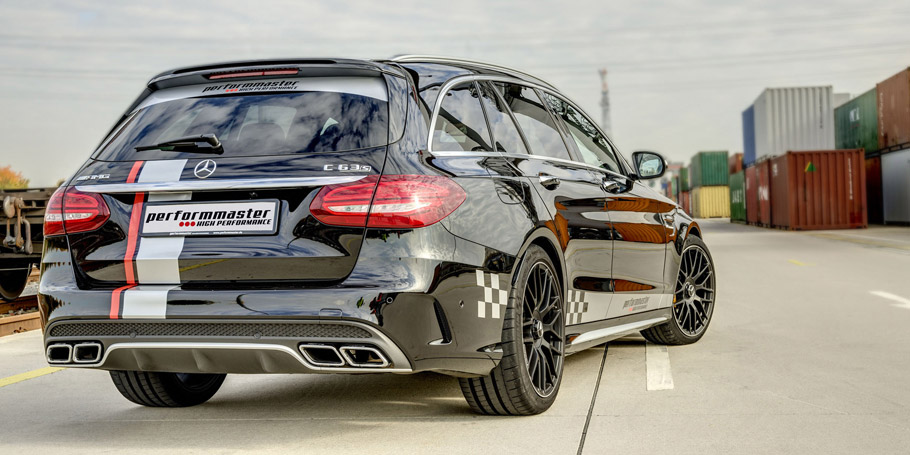 In addition, the serial top speed of both models with included Driver's Package only reaches between 280 and 290 kph. Performmaster has ensured that the Vmax reaches 310 kph.
And if you liked what you have just read, but you have only the AMG GT (S), you needn't worry, because the tuning company has a special PEC tuning module for this model. Precisely, it helps the Mercedes produce 612 hp (450 kW).
Source: Performmaster