Carlex Design BMW Z4 E89 - Awesome!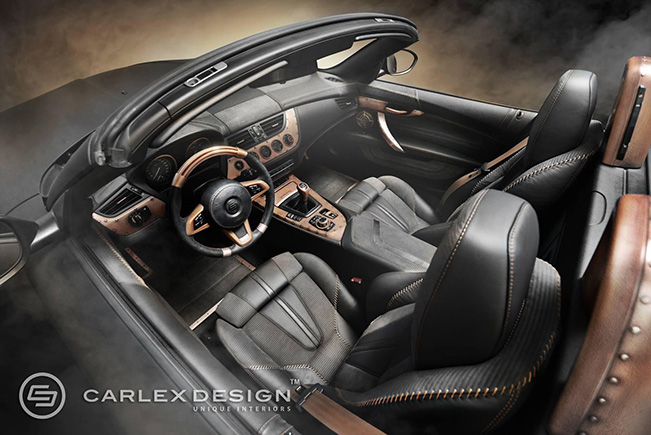 Carlex Design has published several nice pictures of a heavily modified BMW Z4 E89. The stylish roadster received a unique look – exterior and interior by the tuning company. The new vision is truly impressive and even hardcore BMW fans (like me) like it, a lot.
The inspiration for the project is taken from a sub-genre of science fiction. The tuning specialists from Poland created a stunning combination of brass and Alcantara with different types of dark leather. The roll bars behind the seats as well as the door handles, transmission tunnel and some sections of the dashboard received brass treatment, while the seats and the steering wheel are finished in fine dark leather with contrasting stitches.
The exterior boasts a complete matte black foiling combined with a copper finish for the roof and the new enormous alloy wheels.
No words about performance modifications, but the heavily tuned Z4 by Carlex is enough impressive even without hundreds of horsepower under the long front hood. Still, the small roadster is pretty quick even in its least powerful version – sDrive18i powered by a 2.0 liter four-cylinder engine – 156HP (115 kW) and 200Nm (148 lb-ft). 0-100 km/h in 8.1 seconds and a top speed of 220 km/h (138 mph).
Enjoy the pictures!
Source: Carlex Design