Carrozzeria Touring Disco Volante 2012 at Geneva
That gorgeous looking thing, adorning the halls of the Geneva Motor Show hides an Alfa Romeo 8C Competizione engine inside. It even has an 8C chassis. And despite that it has all the necessary looks to be an Alfa, it isn't. Say hello to the Carrozzeria Touring Disco Volante 2012 – a tribute to the 1900 C52 Alfa Romeo concept from the fifties. It too was made with the help of the same company and now it's back in a different form. Carrozzeria Touring was (and still is) all about lightness and agility - "supperleggera". The C52 had a spectacular tubular chassis, an aluminum crankcase and bits and pieces from the Alfa 1900 C. It was a car that set a new benchmark in aerodynamics. It was a pretty car, a flying saucer.
The 2012 Disco Volante bares all that DNA. A whole-piece hood veils the wheel wells. It still has the overall slippery teardrop shape and a silver waistline that would make any maxi model green with envy. You get the sense that it has been thoroughly contemplated and discussed on paper before being commissioned. Creating  one of these 2012 saucers requires 4000 hours of labor. The aluminum panels on it are hand-beaten as a part of a company tradition. Many details and components are also hand-built making the car extremely exclusive. Just a few will be made and given to those who need it most – collectors, sporting drivers and design aficionados.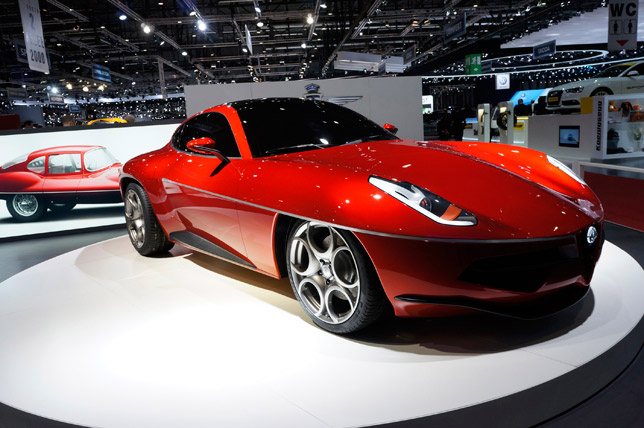 Of course, underneath it is essentially an Alfa 8C which means that the double wishbone suspension keeps the Disco Volante (the flying saucer) fairly planted on the road. It also means that when you peal away that monoblock hood you'll see a 4.7 V8 that sends 450 PS and 470 Nm of torque through a 6-speed paddle shift gearbox and a limited slip differential. Luckily the brakes are also from the current century and do a pretty good job stopping the perfectly weight distributed Disco Volante 2012.
Let's just hope you are ready to empty your pockets superleggera style if you want it. The Alfa 8C is expensive enough. Adding a fur coat on the bill, won't come lightly. But what a car it is!
Source: Carozzerria Touring Superleggera