Castrol Footkhana - Neymar Jr. vs Ken Block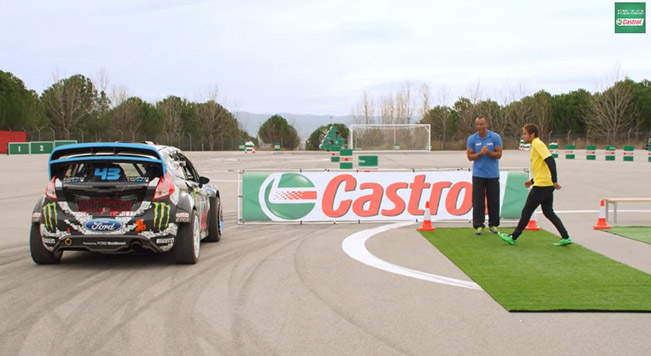 Ken Block and Neymar Junior joined forces to create the unique footage called "Footkhana". This is a duel between football (soccer) player and Gymkhana professional drifter. Of course, each one of them has a "weapon" to use – Ken Block has a Ford Fiesta HFGV with 650HP and Neymar got… a ball and his multi-million feet.
The 2014 World Cup in Brazil is very soon, so the clip is specially created to promote it. Castrol asked Ken Block and well-known soccer player Neymar to star in this spectacular footage.  Both Neymar and Ken Block have a very good footwork and show off their talents but eventually the special game ends up with a 3-3 tie.
As a reminder, Neymar da Silva Santos Junior is born on February 5th in 1992). He is commonly known as Neymar and plays for Spanish club FC Barcelona in La Liga. He is currently one of the best football players in the world and the reported transfer fee was €57 million. Neymar's playing position is Forward/Winger and as you will see in the video, he tackles the ball extremely well.
On the other hand, Ken Block is a professional rally driver with the Hoonigan Racing Division. He is born on November 21st in 1967 and he is one of the co-founders and recently appointed Chief Brand Officer of DC Shoes. ock has also competed in many action sports events includin snowboarding, skateboarding and motocross.
Enjoy!