Ford Fiesta ST Global RallyCross Championship Race Car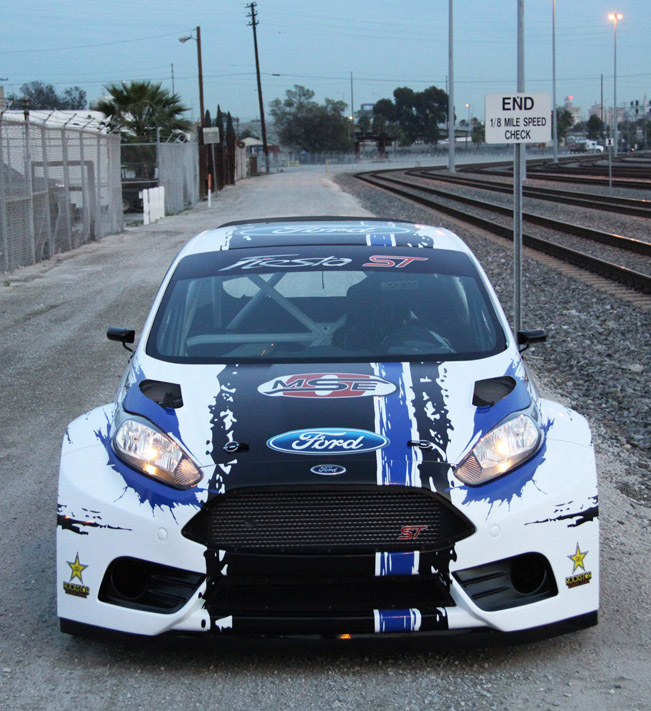 The 2013 Ford Fiesta ST is a race car built for the street. Actually, the Global RallyCross Championship (GRC) fans will soon get an up-close view of the same car built exclusively for competition at the Chicago Auto Show.
The first Fiesta ST GRC cars will debut this season with Ken Block, Brian Deegan and two-time Global RallyCross champion Tanner Foust. Foust and Deegan will give performance car enthusiasts and media the first look at the OlsbergsMSE Fiesta ST GRC race car this week at the Chicago Auto Show.
"Global RallyCross has been a great series for us to demonstrate what Ford's small performance cars can do," commented Jamie Allison, director, Ford Racing.
"With great drivers and teams, and now a formal manufacturer partnership with OlsbergsMSE, Ford Racing's commitment to Global RallyCross is quickly growing. We're excited about the debut of the Fiesta ST GRC car this year, and it will be fantastic to see Ford's global performance car compete in four countries around the world this season.", he added.
To support development of the RallyCross Fiesta ST program, Ford Racing has formalized its manufacturer partnership with OlsbergsMSE, whose credentials include two consecutive GRC driver championships with Foust, and podium finishes at all six rounds in 2012. The team has helped Ford earn GRC manufacturer's championships in 2011 and 2012.
Fiesta success in 2012 Global RallyCross Championship
1-2 finish at Charlotte Motor Speedway with Marcus Gronholm and Foust
Sweep at Texas Motor Speedway with Gronholm, Foust and Deegan
Silver and bronze at X Games with Block and Deegan
Third-place podium finish at New Hampshire Motor Speedway with Deegan
1-2 finish at Las Vegas Motor Speedway with Foust and Deegan
1-2 finish at SEMA in Las Vegas with Foust and Deegan
Foust clinched second-consecutive GRC Championship, followed by Deegan
Ford clinched second-consecutive GRC manufacturer's championship with four first-place finishes and 12 podium appearances
Source: Ford