Caterham Drive Experience: The Ultimate Christmas Drift
Forget socks, awful jumpers and smellies this Christmas and give a loved one a gift to remember by strapping them into one of the world's best handling cars.
Caterham Drive Experience (CDX) vouchers can be exchanged for an adrenaline-fuelled day, putting people in the seat of a legendary Seven sports car where they'll learn how to burn rubber in style.
Through friendly coaching in a relaxed environment, CDX participants are taught the type of driving skills usually reserved for racers and stunt drivers, such as learning how to steer using the rear wheels, also known as 'drifting' and pulling 'doughnuts'.
Held at locations across the UK, including Brands Hatch and Silverstone, CDX days make a superb day out and aren't just for wannabe racers, they appeal to anybody with a driving licence and a sense of fun! And don't just think it's a treat for thrill-seeking boys; 30 percent of vouchers are sold for female recipients.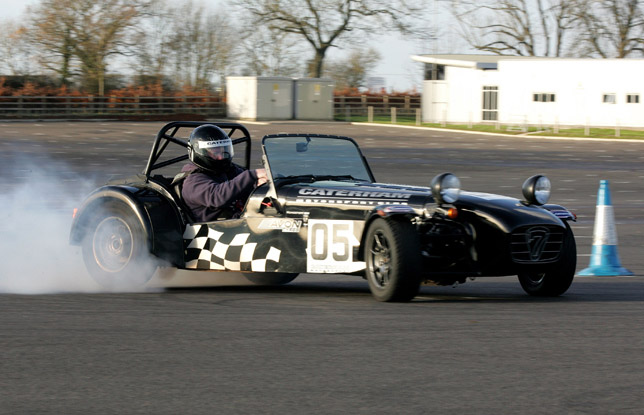 CDX Days
The Slalom: Takes the simple formula of powersliding and 'donutting' a Seven round a course against the clock. The emphasis is on fun, but with an added element of competition at the day's end.
Drift School: Learn the dark art of controlled power sliding and steer the rear wheels of a legendary Seven around a course with this tyre-smoking master class.
Circuit Experience: Ever wanted to drive on a real race circuit? Through one-to-one tuition, the Circuit Experience helps drivers of all abilities to tackle some of the country's most prominent race circuits in a car that can accelerate to 60mph in less than 5 seconds and can embarrass most supercars costing over five times as much on the track.
Even after an amazing 51 years in production, the Caterham Seven is still widely regarded as one of the purest driving experiences available. Stripped to the very basics, these lightweight two-seaters offer unparalleled driver feedback with none of the boring electronics that dull the sensation of most modern supercars – just you and the road.
To experience the addictive charm of a Caterham, vouchers are available from £115 to £450 – there is a gift to suit everybody's needs.