Chevrolet Code 130R and Chevrolet Tru 140S Concepts
Chevrolet has just introduced today their two new concept vehicles at the 2012 North American International Auto Show - Chevrolet Code 130R Concept and Chevrolet Tru 140S Concept. The first car is a four-seat coupe with a simple upright profile. It is painted in red metallic paint with matte anodized gold wheels. Moreover Code 130R includes heritage performance-inspired styling and rear-wheel drive. It also has an extremely appealing look thank to its aggressive front fascia, Chevrolet fender flares, straight body side and Chevy crossflag emblem. The designers have worked on the engine as well. They decided that the turbocharged engine will be tuned to work in tandem with eAssist technology. Thus they have managed to balance turbocharged performance with fuel economy simply by shutting off the engine at stops, recapturing braking energy, and smoothing torque during acceleration. Hence this concept takes the automotive electrification to the next level.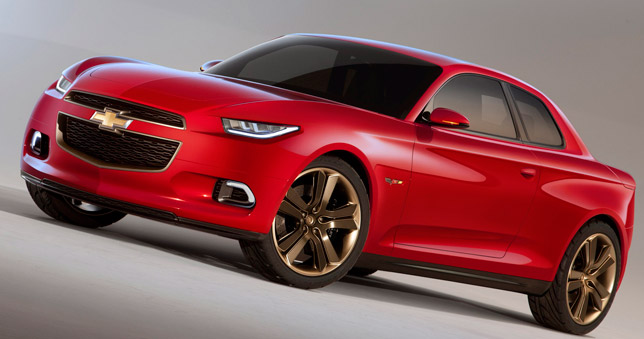 The second concept is Tru 140S and it is a front-wheel-drive, "affordable exotic" four-seat sporty coupe. Furthermore it is a three-door hatchback and obviously it was designed to be an attractive-yet-affordable sports car. As we can see Tru 140S is designed to look confident, exotic, expensive and fast, thank to the paint finish in matte white with Chevy performance chrome wheels featuring crossflag emblems. In addition Tru 140S is based off the same platform as the Chevrolet Cruze and the groundbreaking Chevrolet Volt electric vehicle with extended range. The goal of the designers here was to demonstrate technologies typically found in more expensive cars, including direct injection and a starter-based stop-start technology, balancing internal combustion and electrification in order to deliver high value and improved fuel economy.
Furthermore the new concepts feature options which nowadays are extremely appreciated. First of all they have sedan-sized functionality in performance coupe form that seats four passengers. Secondly, the interior connectivity and convenience feature innovative storage, WiFi, smart phone integration with Chevrolet MyLink and heads-up display. Next, the highlight is the 40 MPG with a 1.4L Turbo Ecotec engine with approximately 150 horsepower (110 kW). And eventually there is the chance of possible production price range in the low $20,000s!
CHEVROLET CODE 130R CONCEPT COUPE SPECIFICATIONS
Overview
| | |
| --- | --- |
| Model: | Chevrolet Code 130R Concept Coupe |
| Body style / driveline: | four-passenger coupe, rear-wheel drive |
| EPA vehicle class: | compact car |
Engine
| | |
| --- | --- |
| | 1.4L Ecotec turbocharged DOHC I-4 w/ eAssist |
| Displacement (cu. in. / cc): | 83 / 1364 |
| Bore and stroke (in. / mm): | 2.85 x 3.25 / 72.5 x 82.6 |
| Block material: | cast iron |
| Cylinder head material: | cast aluminum |
| Valvetrain: | overhead camshafts, four valves per cylinder, continuously variable valve timing |
| Ignition system: | individual coil on plug |
| Fuel delivery: | sequential multi-port fuel injectors with electronic throttle control |
| Compression ratio: | 9.5:1 |
| Horsepower (hp / kW): | 150 / 110 |
| Torque (lb.-ft. / Nm): | 148 / 200 |
| Recommended fuel: | regular unleaded |
| Max engine speed (rpm): | 6500 |
| Emissions controls: | close-coupled and underfloor catalytic converters; Quick-Sync 58x ignition system; returnless fuel rail; fast light-off O2 sensor |
| Estimated fuel economy (hwy): | 40 |
Transmissions
| | | |
| --- | --- | --- |
| | 6-speed automatic | 6-speed manual |
| Application: | standard | optional |
Wheels/Tires
| | |
| --- | --- |
| Wheels: | 20-inch matte gold |
| Tires: | P245/40R20 |
Dimensions
Exterior
| | |
| --- | --- |
| Wheelbase (in / mm): | 109.3 / 2775 |
| Overall length (in / mm): | 173.1 / 4396 |
| Overall width (in / mm): | 71.5 / 1816 |
| Overall height (in / mm): | 54.7 / 1390 |
| Track (in / mm): | front: 60.4 / 1535rear: 61.8 / 1569 |
Interior
| | |
| --- | --- |
| Seating capacity (front / rear): | 2 / 2 |
| Headroom (in / mm): | front: 30.7 / 780rear: 33.1 / 841 |
CHEVROLET TRU 140S CONCEPT COUPE SPECIFICATIONS
Overview
| | |
| --- | --- |
| Model: | Chevrolet Tru 140S Concept Coupe |
| Body style / driveline: | four-passenger, three-door hatchback, front-wheel drive |
| EPA vehicle class: | compact car |
Engine
| | |
| --- | --- |
| | 1.4L Ecotec turbocharged DOHC I-4 w/ start-stop technology |
| Displacement (cu. in. / cc): | 83 / 1364 |
| Bore and stroke (in. / mm): | 2.85 x 3.25 / 72.5 x 82.6 |
| Block material: | cast iron |
| Cylinder head material: | cast aluminum |
| Valvetrain: | overhead camshafts, four valves per cylinder, continuously variable valve timing |
| Ignition system: | individual coil on plug |
| Fuel delivery: | sequential multi-port fuel injectors with electronic throttle control |
| Compression ratio: | 9.5:1 |
| Horsepower (hp / kW): | 150 / 110 |
| Torque (lb.-ft. / Nm): | 148 / 200 |
| Recommended fuel: | regular unleaded |
| Max engine speed (rpm): | 6500 |
| Emissions controls: | close-coupled and underfloor catalytic converters; Quick-Sync 58x ignition system; returnless fuel rail; fast light-off O2 sensor |
| Estimated fuel economy (hwy): | 40 |
Transmissions
| | | |
| --- | --- | --- |
| | 6-speed automatic | 6-speed manual |
| Application: | standard | optional |
Wheels/Tires
| | |
| --- | --- |
| Wheels: | 21-inch Chevrolet performance chrome |
| Tires: | P245/35R21 |
Dimensions
Exterior
| | |
| --- | --- |
| Wheelbase (in / mm): | 108 / 2743 |
| Overall length (in / mm): | 177.4 / 4507 |
| Overall width (in / mm): | 73.9 / 1878 |
| Overall height (in / mm): | 63.5 / 1360 |
| Track (in / mm): | front: 64.3 / 1632rear: 64.3 / 1632 |
Interior
| | |
| --- | --- |
| Seating capacity (front / rear): | 2 / 2 |
| Headroom (in / mm): | front: 37.8 / 959rear: 31.6 / 802 |
Source: Chevrolet