2016 Chevrolet COPO Camaro VIN#001 Gathers Money for Charity at Barrett-Jackson

2016 Chevrolet COPO Camaro, the Gen Six special SEMA edition race car by Chevy, is going to be auctioned this Friday at Barrett-Jackson Scottsdale. The gathered proceeds are going to benefit United Way, world's largest privately-funded nonprofit organization. Its goals are to create community solutions that make everyone's life better.
Important to mention is that Chevrolet will auction the COPO Camaro with production number 2016COPO001 (the first one that got out from the factory). We all know that the Camaro is a strong and powerful machine. But what differentiates this particular example from the others?
SEE ALSO: The Force Awakens with Top 5 Star Wars Themed Cars 
First, it is a powerful and purpose-built, and it is designed to race in NHRA Stock Eliminator class. It is modern and at the same time infuses legendary COPO performance with the lighter and stronger.
Exterior & Interior Design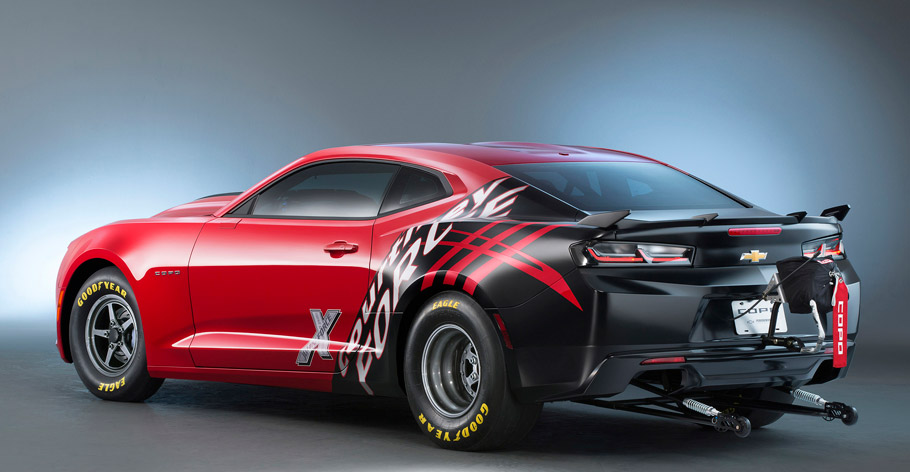 On the outside the car features a Red Hot exterior color with Courtney Force-signature graphics. The grille is red-accented too. The signature slash marks can be seen towards the back on the car. The interior is defined by chrome-moly roll cage, lightweight racing bucket seats that carry the COPO logo and Courtney Force's signature. Let's not forget the five-point safety harnesses and a floor-mounted gear-shifter. To stay true to the competition spirit, the instrument panel features racing gauges and switch panel.
Under the Hood
Speaking of the hood, it is made of carbon-fiber. Anyway, under it there is a 350 racing engine with a Whipple 2.9-liter supercharger connected to a THM-350 automatic transmission.
Another benefit here is that every single COPO Camaro is hand-built. And if you have ever wondered what COPO means its stands for Central Office Production Order system. This system was used in the 60s by dealers who wanted to put high performance powertrains into production Camaros.
2016 Chevrolet COPO Camaro with serial number 001, lot number 3005, will be auctioned on Friday, January 29. How much money will it gather for the cause? Any guesses?
Source: Chevrolet