2015 Chevrolet Corvette Z06 - US Pricing Announced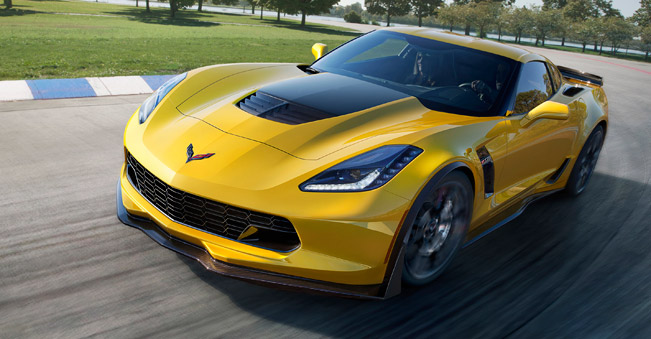 2015 Chevrolet Corvette Z06 is finally going on sale. This model is the most powerful and technologically advanced car in General Motors' history. Z06 is offered in coupe and convertible form in three trims: 1LZ, 2LZ and 3LZ. The new Z06 features stronger aluminum frame, an aero package delivering more downforce and supercharged 6.2L V-8 engine. The unit is rated at 650 horsepower (485 kW) and 650 lb-ft of torque (881 Nm).
Advanced technologies are also introduced on the Corvette Stingray, such as direct injection and Active Fuel Management. Combined with the fuel-efficient multi-speed transmissions, aerodynamic design and lightweight construction, these features make the new Z06 surprisingly efficient.
Additional technologies enhancing performance and driving experience include the third-generation Magnetic Selective Ride Control, Performance Traction Management, and an electronic limited-slip differential. Furthermore, Z06 offers three increasing levels of aerodynamic downforce. The first one is the standard Z06 which includes a front splitter, spats around the front wheel openings, a unique carbon-fiber hood with a larger vent, and an aggressive rear spoiler.
The second one is the available carbon-fiber aero package which is offered in either carbon flash paint or a visible carbon-fiber finish. This pack comprises a carbon-fiber front splitter with aviation-style winglets, carbon fiber rocker panels, and a larger rear spoiler with a fixed wickerbill. At last, the available Z07 package adds larger winglets to the front splitter. There are also adjustable sections on the rear spoiler for track use.
The new Corvette will also feature for the first time the innovative Performance Data Recorder (PDR). This technology enables users to record high-definition video, with telemetry overlays, of their driving experiences on and off the track.
2015 Chevrolet Corvette Z06 has a starting price of $78,995, while the convertible model will start at $83,995.
Source: Chevrolet