Chevrolet Groove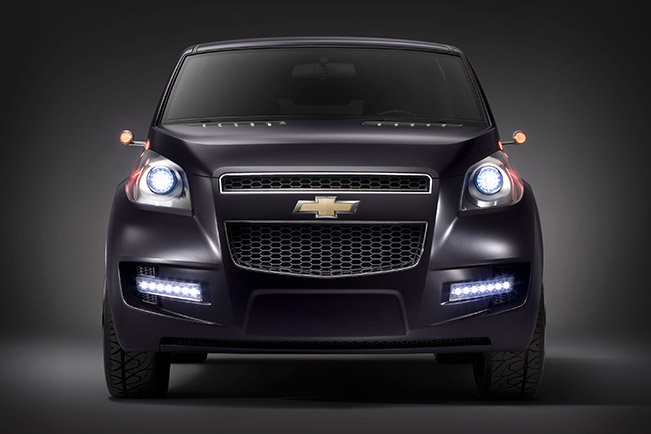 A "funkastalgia"-themed vehicle too tough-looking to be "cute," the Groove concept is a retro-inspired vehicle with bodacious fender flares and an upright windshield. It looks much longer than it is, thanks to its short hood and long cabin. The front-drive Groove is powered by a small, efficient 1-liter diesel engine.
Three Chevrolet minicar global concepts designed to appeal to young car buyers in urban markets prove that art needn't take a back seat just because the canvas is small. Revealed today at the NY Motor Show, the highly creative Chevrolet Beat, Chevrolet Groove and Chevrolet Trax concepts drive the energy, diversity and excitement of urban life into cars that deliver good-looking fun, fuel economy and value.
All three concepts were designed at GM's Design Studio in Inchon , South Korea . One of GM's 11 Global Design Studios, the designers in the Korean center are experts in small car product development.
Built on GM's global mini architecture, these concepts demonstrate the flexibility, creativity and innovative focus of design in GM's Asia Pacific region. The Chevrolet Beat concept, a running prototype of a micro import tuner, was built in India ; while the Chevrolet Groove and Trax micro urban crossover concepts were built at the GM Tech Center in Warren , Mich.
"The Chevrolet Beat, Groove and Trax concepts highlight the strength and diversity of GM's Global Design capabilities, as well as the ability of our Global Product Development team to anticipate and quickly meet the evolving needs of our diverse markets around the world," said Ed Welburn, vice president, GM Global Design.
"The design team was so enthused about being given the assignment to develop the perfect small car for urban commuters that they created not one, but three interpretations of how this car may be developed for Chevrolet customers around the world."
Chevrolet is one of four GM global brands, meeting diverse customer needs in 120 countries with vehicles that range from subcompacts and family sedans to full-size pickups and SUVs and iconic sports cars such as the Corvette. The concepts revealed in New York , for example, offer three different fuel-efficient engines, including a diesel.
"The Chevrolet Beat, Groove and Trax concepts have the potential to expand the reach of Chevrolet – already a beloved brand around the world – even further, connecting with young buyers on multiple continents who desire fun-yet-efficient transportation," said Chevrolet General Manager Ed Peper. "These are the same brand attributes that made Chevrolet a household name in the U.S. "