Limited to 50 Units 2016 Cobra Jet Mustang Debuts at SEMA Show [VIDEO]

2016 Cobra Jet Mustang prepared by Ford Performance has been just revealed at the SEMA Show in Las Vegas. Basically, the latest Cobra Jet is a limited-edition turnkey race car. The important 'thing' that differentiates it from any other cars is that the snake is absolutely legal for National Hot Rod Association Stock and Super Stock drag racing, as well as several other classes in the International Hot Rod Association, National Mustang Racers Association and National Muscle Car Association.
The saddest fact is that just like the previous generation, this one is limited to 50 units and they all will be colored in either Oxford White or Deep Impact Blue. Of course, from each shade there will be 25 units.
SEE ALSO: It Appears As Ford is This Year's Star at SEMA 2015 
What's the deal with the Cobra Jet? Well, 75 percent of it is based on the production Mustang GT and includes the same components topped by a front inlet Whipple supercharger. This makes it capable of eight-second quarter-mile times.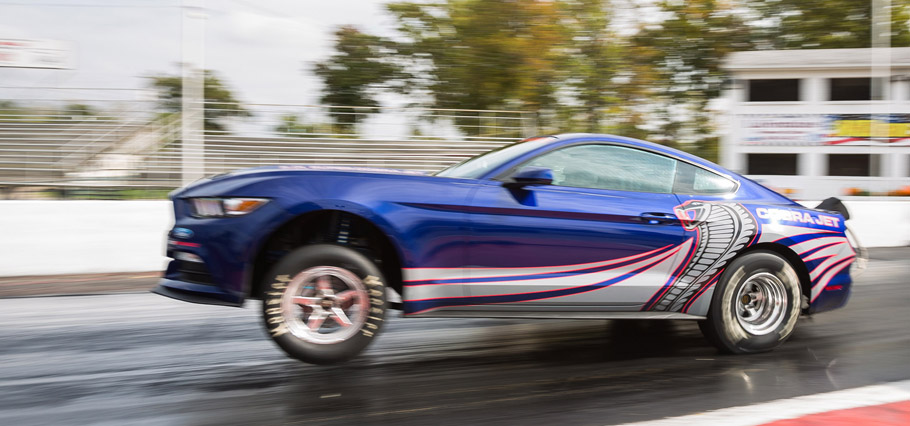 Furthermore, the 2016 edition of the series uses drag race-specific coil-over shocks and springs as well as lightweight racing brakes delivered by Strange Engineering. For enhanced safety, the driver and passenger will be protected by 8.50-certified roll cage. Other enhancements include Aeromotive fuel system with trunk-mounted fuel cell, Corbeau FIA seats, five-point race harnesses and race-prepped automatic transmission.
SEE ALSO: 2014 Ford Mustang Cobra Jet Prototype Sold At Barrett-Jackson For $200,000 
The exquisite work of the experts at Ford Performance included adding technology from other parts of the company and adapting it for racing. Therefore it is not a surprise that the Cobra Jet engine utilizes an electric water pump from Ford C-MAX Hybrid that allows cool-down without the engine running. As a result the car has more consistent racing as well as improved management of engine temperature. And to prove out powertrain's capability, dyno cells were calibrated to simulate drag strip burnouts and quarter-mile runs.
2016 Cobra Jet Mustang will be dedicated for North America only. It will be produced at the Flat Rock Assembly Plant in Michigan with production start on the way. The first deliveries are expected in the first quarter of 2016. Pricing starts at $99,990 USD.
Video Source: YouTube 
Source: Ford Motor Company