COBRA N+ Tunes the New Nissan 370Z
The most successful family of sports cars of all time is the Nissan Z model series. 40 years after the debut of the original 240Z the sixth generation has arrived, the Nissan 370Z. As an official factory tuner Cobra Technology & Lifestyle offers the COBRA N+ 370Z sport concept, a wide range of exclusive options for refining the two-seater sports car. All components are available at authorized Nissan dealers.
For a visual and aerodynamic upgrade of the 370Z body the COBRA N+ designers have developed carbon-fiber-look aerodynamic-enhancement components. The COBRA N+ front spoiler precisely fits the opening of the air inlet of the production front apron, and lends the 370Z a more striking face. Its sophisticated shape also reduces aerodynamic lift on the front axle.
Its aerodynamic counterpart in the rear is the COBRA N+ diffuser insert for the production apron. It was custom developed and also features a centrally located reflector as well as custom cutouts for the two 120-mm tailpipes of the COBRA N+ sport exhaust system.
The COBRA N+ 370Z body program also features carbon-fiber-look covers for the outside rearview mirrors.
For even more agile handling of the Nissan 370Z the COBRA N+ engineers have developed a custom-tailored tire/wheel combination with especially lightweight 19-inch rims and matching lowering springs and sport suspensions.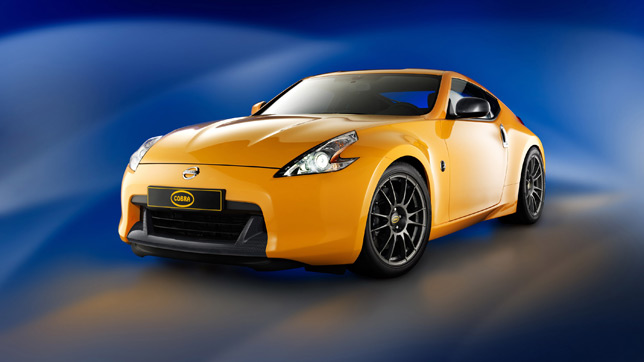 To reduce unsprung weight to a minimum the COBRA N+ engineers and technicians have developed the extremely lightweight COBRA N+ CN22 wheels with six double spokes. In sizes 9Jx19 with size 255/40 ZR 19 high-performance tires in front and 10Jx19 in back with size 285/35 ZR 19 tires they make perfect use of the available space beneath the wheel arches. At the same time these wheels and tires widen the vehicle's track, further increasing maximum possible cornering speeds.
The COBRA N+ suspension solutions for the Nissan sports car also contribute to the higher cornering speeds. Sport springs lower the ride height by some 30 millimeters. The COBRA N+ coil-over suspension offers a ride height lowering, continuously variable between 20 and 40 millimeters on front and rear axle. The damper rates of the suspension are also adjustable.
Better sound, optimized power yield, an even more striking rear appearance and top-notch quality are the hallmarks of the two COBRA N+ stainless-steel sport rear mufflers that feature one 120-mm tailpipe of either side. In addition to the conventional muffler there is a version with an electronically controlled flap. It allows selecting an exhaust note for the V6 engine ranging from discrete sportiness to pure racing sound at the push of the button on the radio remote.
The cockpit of the two-seater car can be upgraded with special carbon-fiber-look scuff plates.