D2Forged Enhances the BMW 650i Gran Coupe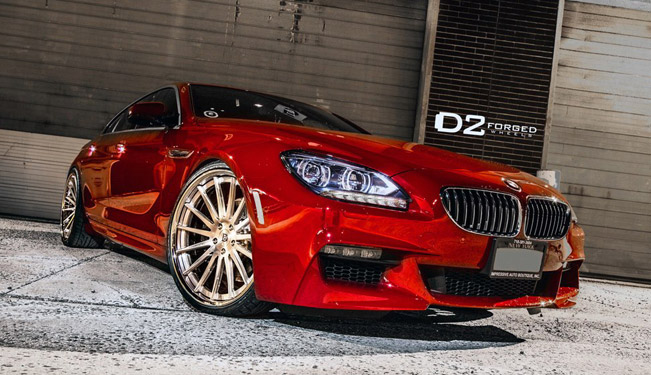 D2Forged BMW 650i Gran Coupe CV15 can undoubtedly called the "perfect car". The firs reason for this is that the 650i Gran Coupe is equipped with V8 powerplant, which generates 330 kW (450 hp) amount of power. And secondly because the tuners from D2Forged Wheels have made it look even more aggressive.
To be more precise, the this BMW includes TwinPower Turbo technology of new-generation that comes with VALVETRONIC fully variable valve timing. The new technology package increases the maximum power to 330 kW/450 hp, which is available between 5,500 and 6,000 rpm, and maximum torque to 650 NM (479 lb-ft) between 2,000 and 4,500 rpm.
This means that the BMW 650i Gran Coupe accelerates effortlessly from 0 to 100 km/h (62 mph) in just 4.6 seconds. Despite those impressive numbers, the average fuel consumption of the car lies between 8.6 and 8.8 litres per 100 kilometres (32.1 – 32.9 mpg) and has CO2 emissions between 199 and 206 grams per kilometer.
The powerful engine is mated to an eight-speed sports automatic transmission, which cooperates with an Auto Start-Stop function and ECO PRO mode.
More importantly, what makes this car truly unique are the 22″ D2Forged CV15 Concave Wheels. They complement perfectly the breath-taking red exterior of the BMW and include BBC Center, Chrome Lip and Gloss Black Inner Finish.
In addition, they were given a Hand Painted Red "D2″ Centercap Logo. For the front were utilized 22×9.0 – 2.0″ lip Shallow Concave wheels and for the rear - 22×10.5 – 5.0″ lip – Deep Concave ones.
Source: D2Forged