Designer Brake Discs exports surge ahead as UK currency falters
A British performance brake disc specialist is delivering products to motorists throughout the world as demand for British innovation and safer braking increases – helped further by the drop in value of the UK currency in recent months.Car Parts Direct, the UK distributor of Rossini Performance Brake Discs claim sales of their Rossini Performance Brake Discs to overseas motoring enthusiasts is increasing at a staggering rate – up 38% in the last 6 months.
The unique British manufactured brake discs are being ordered by motorists in countries throughout the world who are taking advantage of the low value of the UK currency which has fallen by over 20 per cent against the Euro and even more against the US Dollar.
Drilled and grooved brake discs were first designed for top performance vehicles such as BMW and Mercedes. Now they are available for most makes of vehicle on the road. Rossini's special multi-drilled and grooved signature performance brake discs don't only look terrific, they are designed to provide improved stopping power too. Grooves in the brake disc reduce brake pad glazing and repel brake dust. Drilling cools the discs quicker and helps improve brake grip – instantly.
Titanium in the discs provides added strength to prevent warping – the main cause of brake judder. Rossini Performance Brake Discs can improve the stopping distance by up to 40%. The unique brake disc design has the manufacturer's logo embedded into the disc face so any sign of uneven wear is quickly detected. When the logo eventually disappears you know that the thickness is down to the legal safety limit.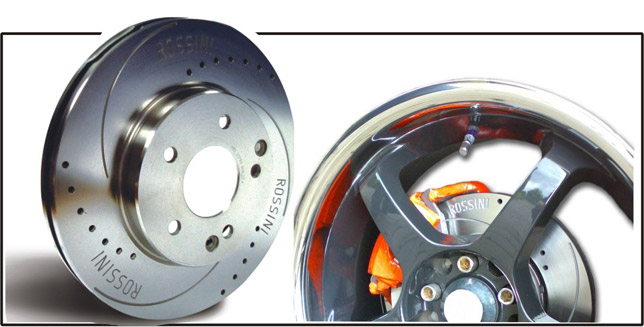 Mark Cornwall of Car Parts Direct said, "The UK is very well respected for design and innovation, especially in the motoring technology Industry. We have customers as far as Australia and the Far East as well as Europe ordering Rossini by recommendation from other customers – we have never actually advertised Rossini Performance Brake Discs outside the UK."
A set of Rossini Brakes start from around £100, delivery costs £4.95 within the UK. European deliveries are £29 with special rates for other worldwide destinations.