Dinan BMW M5 F10 - 675HP and 872Nm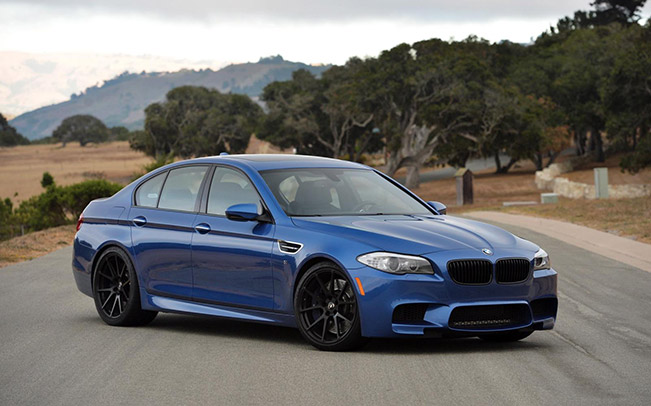 Dinan has presented their latest tuning package for BMW M5 F10. It was about time to unveil it, because the model has been on the market for a long time. The American tuning specialists offer both styling and performance upgrades for the extremely fast saloon.
The 4.4 liter twin-turbocharged V8 engine is boosted to whopping 675HP (503 kW) at 6,000RPM and 872Nm (644 lb-ft) of torque at 4,000RPM. This is an increase of 115HP and impressive 192Nm of torque. The result is thanks to a complete stainless steel free flow exhaust system as well as carbon fiber CAI (cold air intake) system and an ECU re-map.
Dinan also offers adjustable coilover suspension, bigger anti-roll bars, negative camber control arms and 20" lightweight forged performance wheels. There are also carbon fiber mirror caps and a new spoiler. The interior boasts aluminum pedals and a serial numbered plaque.
All prices are available (below).
DINANTRONICS Performance Tuner - $3,749 Dinan Stainless Steel Free Flow Exhaust (Rear Muffler) - $2,999 Dinan Carbon Fiber Cold Air Intake - $2,999 Total for S1 Engine Tune - $9,747
Maximum Horsepower: 675 hp @ 6000 rpm Maximum Torque: 644 lb-ft @ 4000 rpm
Dinan High Performance Adjustable Coil-over Suspension System - $1,499 Dinan Lightweight Tubular Adjustable Front Anti-Roll Bar - $599 Dinan Lightweight Tubular Adjustable Rear Anti-Roll Bar - $399 Dinan Negative Camber Control Arms - $1,014 Total for S1 Suspension Tune: - $3,511
Dinan Aluminum Pedal Pad Set - $229 Dinan Deck Lid Badge Included Dinan S2 Serial Numbered Plaque Included Total for S2 Accessories - $229
Dinan S1 Package Total - $13,487
Options Wheels/Tire & Brakes
Lightweight Forged Performance Wheel Set 20" - $6,450 set
BMW Performance Carbon Fiber Spoiler - $613 BMW Carbon Mirror Caps - $700 pair
Source: Dinan