DMC Ferrari F12 Berlinetta SPIA - 764HP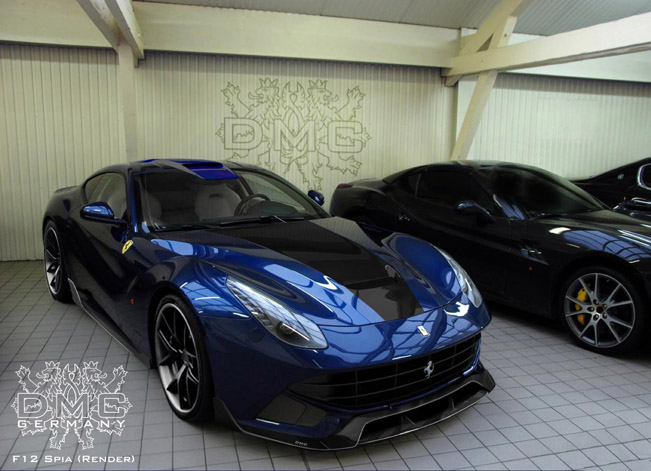 DMC has announced their tuning package for the most powerful Ferrari, ever built. The F12 Berlinetta is coming not only with styling modifications, but with some serious performance upgrades, too.
The naturally aspirated 6.2 liter V12 is boosted from 740HP (544 kw) to 764HP (562 kW) thanks to a new a custom titanium exhaust system. The additional power reflects in cars top speed, which is now 350 km/h (217 mph). The exceptional sound of the hyper-car is even better with the new pipes.
The exterior boasts a complete carbon fiber body kit. It includes a new front lip, carbon fiber front hood, a new roof scoop and a pair of extended side skirts. Last, but not least is the 599XX esque spoiler wing, which goes well along with the newly designed rear diffuser. All components fit perfectly to the car and don't ruin the perfect aerodynamics. Moreover, they are lighter, so the car achieves better power-to-weight ratio.
DMC also manufactures rear light replacements that have a tinted appearance, which looks especially good on red, blue, or really any colour.
The car rolls a set of new enormous wheels fitted with Pirelli Sport tires. The front rims are 9.5J x 21" fitted with 255/30 ZR21 rubbers and the rear 12J x 22" fitted with 335/25. DMC is using the highest-grade 3 piece wheels made of forged alloy, which can be ordered in either Virgin Gold or any other finish.
The interior boasts fine leathers and carbon fiber. Plenty of buttons and trims are available as a small package, a redesigned steering wheel adds on to complete a medium package or the whole interior can be redone for the VIP package.
Source: DMC