DMC Ferrari F12 SPIA Middle East Special Edition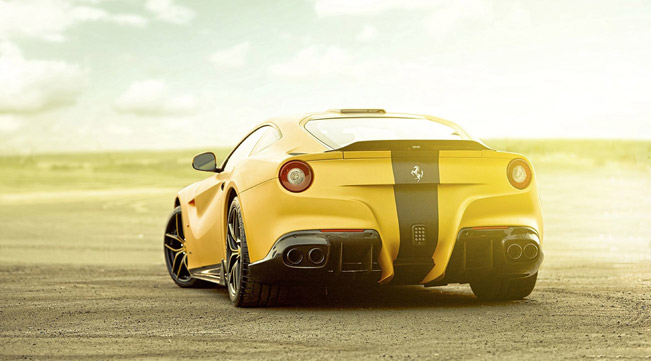 New exciting project of the luxury tuners at DMC has just shown up. This time they have worked not on a Lamborghini but instead on Ferrari. The project is called DMC Ferrari F12 SPIA Middle East Special Edition.
The production Berlinetta generates 740 hp (544 kW), but this wasn't enough for the professionals from Duesseldorf. This was the reason of the development of a performance package that enhances the power output of the sportscar up to 766 hp (563 kW) mark. The top speed after the tuning is nearly 354 km/h.
This new power is mainly achieved thanks to the new Titanium Exhaust System. An ECU refinement added also additional power for F12.
Of course, DMC couldn't resist not improving the exterior stance of the car. They have equipped it with new set of forged Rims and Sport Springs. A combination of 21" at the front and 22" at the rear was used.
An effect of this step is that the overall handling of the vehicle was improved,. The sport springs on the other hand round-off the new appearance by supporting the new weight-ratio and handling. The new wheels were matched with Pirelli Sport Tyres in dimensions of 255/30 for the front and 335/25 for the rear.
In addition, DMC stayed true to its tradition and gave a carbon fiber body kit to this Ferrari, which adds aggressive new look and improved aerodynamics. To be more precise, the front diffuser is substituted with a prominent new lip splitter. The latter extends the car and includes own centric sword, which enhances the road stability.
Furthermore, the front hood is also replaced this time with a carbon fiber version. There is also an optional roof scoop. The extended side skirts use a pair of diffuser plates and stand out with flaps that match the ones that are also found on the front diffuser. Next, the trunk now has 599XX esque spoiler wing, which goes well along with the newly designed rear diffuser.
At last, what finalize the package are the interior refinements included. For example, inside the car there is an extensive use of Italian fine leathers and carbon fiber. In addition, there are also plenty of new buttons and trims and redesigned steering wheel.
Source: DMC