DMC Ferrari F430 Scuderia Carbonio In Full Carbon Fiber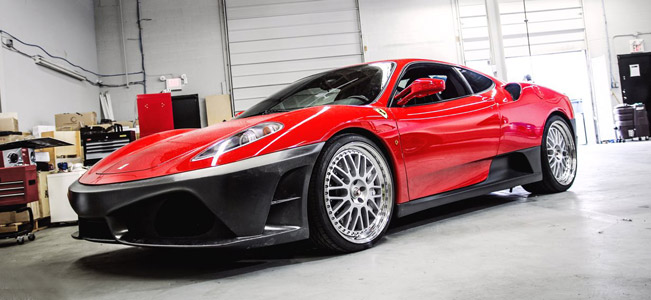 Yesterday came news from DMC announcing and more correctly – teasing their new project DMC Lamborghini Aventador Limited Edition. Today we are pleased to be informed that the Germany's exotic car tuning company has rolled up the sleeves and passionately working on another project.
This time the attention isn't put on their favorite Lamborghini brand, but on another Italian extremely powerful one – the Ferrari. And if you remember, the specialists from DMC were first to modify the Aventador with the Molto Veloce Project, and now they are also being first to customize the F430 with a conversion to the Scuderia in full carbon fiber.
Additional details haven't been released yet. However, it is good to remind what kind of supersportscar they are dealing with. The famous red sports car excels as a true race ride with striking sport characteristics and dynamics.
Furthermore, the F430 is equipped in a 4.3L V8 petrol engine, which has a powerful outout. In particular, its specifications are: 483 hp (360 kW) at 8500 rpm and 465 Nm (343 lb-ft) of torque at 5250 rpm/ The Scuderia has a top speed of 196 mph (315 km/h) and can accelerate from 0 to 100 km/h in only 4.0 seconds
Source: DMC via Facebook