DMC Lamborghini Huracan LP-610 Gets its Stage3 Package

DMC Lamborghini Huracan LP-610 has already received its Stage3 kit! You can view the pictures below and enjoy how beautiful this car looks. And it seems that the designers at DMC have kept the changes in perfect harmony with the original design.
We all know that when it comes to unique tunings of Lamborghini, DMC is probably one of the best choices. In fact, the specialists at the company were the first to present a complete body kit for the Huracan back in 2014.
SEE ALSO: DMC Lamborghini Huracan is Already TUV-approved 
By adding a Stage 2 kit, they have shocked the automotive world even more by revealing it in Geneva this year. And today is the day which meets DMC's Stage3 kit for the Huracan.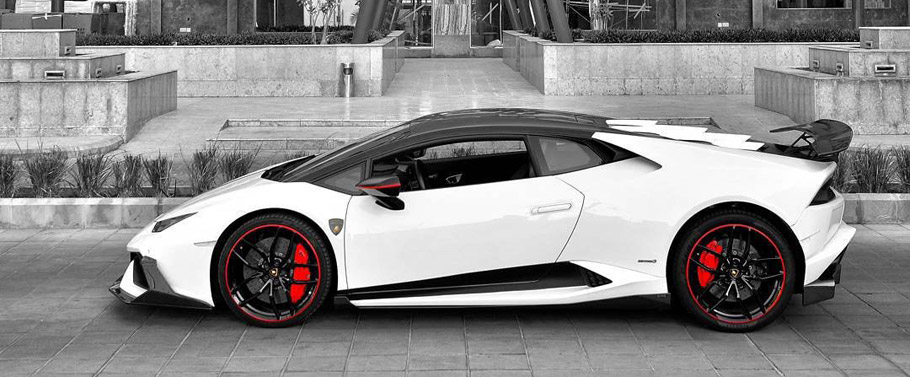 This styling package is definitely fashionable. It does this by stepping on the goodies of Stage1. These include the adjustable leading wing with three angle settings: Choose City Cruising, GT Track day or Fun Mode.
SEE ALSO: DMC Shows the Creative Process Behind new Huracan Project
Adding to this is the spoiler and the base deck under the wing. The latter is a stronger version of the original part. In addition, the side skirts ensure that there is more downforce, while the rear diffuser supports road stability. So far everything was included in the Stage1 kit.
What really makes the difference is the front lip. It not only makes the package stand out, but makes the car unique. Of course, it is made of carbon fiber as all other components. The full front lip spoiler features added Side Flaps.
How about the wheels? They come in a 20″/21″ setup, and are the widest sets in the market so far. For this reason they have been fitted with large P-Zero tires of the dimension 245/30r20 and 325/25r21. Enjoy!
Source: DMC