DMC Transforms Ferrari 458 Italia Spider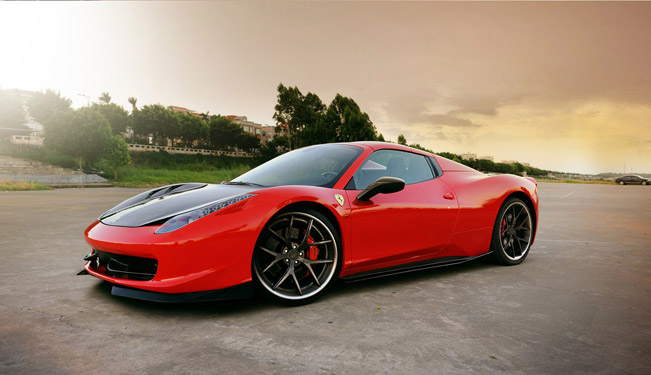 DMC are known for their tunings on Lamborghini. We have seen recently however, that they had a great success on their modification on the F12 Ferrari. Now, their latest work is on the 458 Italia Spider which includes a DMC 458 Performance Package and Forged Rims.
The standard power that this Ferrari model produces is estimated at 570 hp (420 kW). This wasn;t enough for the tuners from the German brand, hence they have developed a performance package that makes the car generate 608 hp (447) and 568 Nm (420 lb-ft) of torque. The newly gained power is mainly due to the remapped engine management system for maximized ignition and injection, and the Stainless Steel Exhaust.
Adding to this is the new set of forged Rims and Sport Springs. They were created in order to enhance the OEM wheels. Having this in mind DMC decided to give the supercar a combination of 21" wheels at the front and 22" ones at the rear. This results not only in the better on-road presence of the car, but also enhances the overall handling.
Furthermore, the sport springs finalize the new appearance of the Ferrari in terms of supporting the new weight-ratio and handling. The rims were matched with Pirelli Sport Tyres in size of 255/30 for the front, and 335/25 for the rear.
The Body Kit on the other hand includes new aggressive look, which is put together by a complete aerodynamic package. For instance, at the front one can see a new lip splitter extends the car and at the same time enhances the overall road stability.
The front hood is completely replaced with a vented version. The extended side skirts deliver better road stability via a pair of diffuser plates, and also stand out with flaps that perfectly go with the ones that are also found on the front splitter.
Next, the trunk has received a new blade wing, which serves in terms of suiting the aerodynamic flow on top as well as under it. Carbon Fiber mirrors, front wings, rear diffusers and fog light covers are the additional highlights which have to be mentioned.
At last, the interior has received treatment as well. Throughout the cabin were utilized the finest leathers and carbon fiber. Plenty of buttons and trims are available as well as a redesigned steering wheel.
Source: DMC