2014 Dodge Challenger and Charger Get New Scat Pack Stage Kits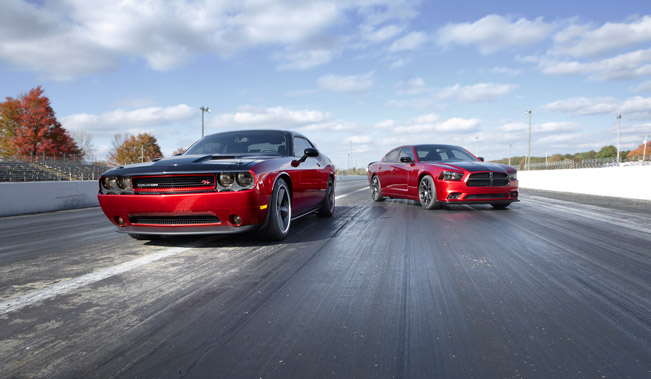 2014 Dodge Challenger and Charger can now be modified by their owners via the new Scat packages offered by Chrysler. The performance kits were introduced by Dodge and Mopar last November at the 2013 Specialty Equipment Market Association (SEMA) show in Las Vegas. There are three packages available: Scat Pack 1, Scat Pack 2 and Scat Pack 3 performance stage kits that can be installed at an authorized dealer. The new kits can boost the 5.7-liter HEMI engine up to an additional 58 horsepower and 47 lb.-ft. of torque. Each Scat Pack has a numbered hard badge associated with its performance stage.
The first pack: Scat Pack 1, can boost the engine of the Challenger and Charger up to 18 horsepower and 18 lb.-ft. of torque. This is due to modifications including a Mopar cold-air intake, Mopar cat-back exhaust, and an all-new performance calibrated engine controller.
Scat Pack 2 offers up to a 30 horsepower bump and adds over to the first package new Mopar performance camshaft. At last, the Scat Pack 3 delivers up to 58 horsepower and 47 lb.-ft. of torque through enhanced performance calibration, new Mopar performance CNC-ported cylinder heads and Mopar hi-flow headers.
Scat Pack 1, 2 and 3 performance stage kits are going on sale this spring with a staring price of $2,195 USD.
SCAT PACK 1:
Mopar cold air intake
Mopar cat-back exhaust
Stage 1 performance PCM
Mopar low restriction oil filter
Scat Pack 1 stage kit hard badges
SCAT PACK 2:
Works in conjunction with Scat Pack 1 and features:
Mopar performance camshaft kit: includes camshaft, tiebars, heavy-duty pushrods and gaskets
Stage 2 performance PCM
Scat Pack 2 stage kit hard badges
SCAT PACK 3:
Works in conjunction with Scat Pack 1 & 2 and features:
Mopar performance CNC ported cylinder heads
Mopar hi-flow headers
Mopar hi-flow catalysts
Stage 3 performance PCM
Scat Pack 3 stage kit hard badges
Source: Dodge