2014 Dodge Dart GT, Challenger R/T and Charger R/T Equipped With Scat Packages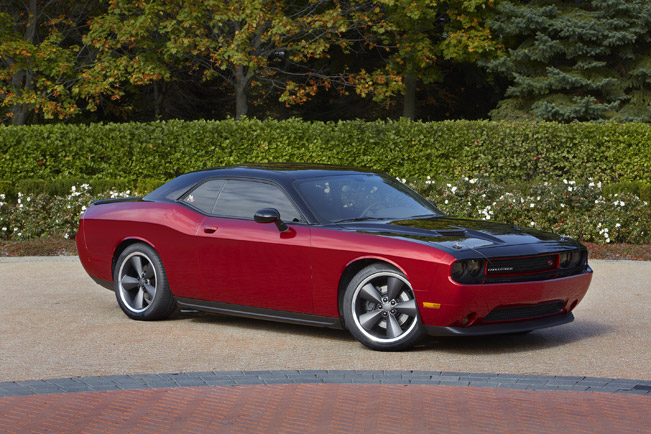 Dodge and Mopar has just announced the introduction of new Scat Package performance stage kits for the 2014 Dodge Challenger, 2014 Dodge Charger and 2014 Dodge Dart at the 2013 SEMA show in Las Vegas. They honor the 45th anniversary of the legendary "Scat Pack Club" that played a very important role.
The Scat Pack Club is synonym of extreme performance and now both brands are delivering factory-engineered performance stage kits that are known as "Scat Packages". The kits will be available for the aforementioned vehicles at a cost-effective price.
Each Scat Package kit comprises of a numbered hard badge associated with its performance stage. Those who will purchase the kits will have the chance to proudly display the emblem on their vehicle as a badge of honor. The Scat Package performance upgrade kits will be available in dealerships in the spring of 2014.
Scat Package 1 is created with the aim to deliver horsepower boost through three modifications: Mopar cold-air intake to provide increased air-flow into the engine, Mopar cat-back exhaust to free up downstream airflow, and a performance calibrated engine controller, optimized to the 5.7-liter HEMI engine.
Next, the Scat Package 2 doubles the horsepower and is for those looking for greater performance. Moreover, there are also new Mopar performance camshaft works in combination with the components of the Scat Package 1 kit. This results in enhanced engine breathing and additional acceleration.
The last package, the Scat Package 3 is prepared for those searching for extreme performance and ultimate bragging rights. It offers optimized performance calibration, Mopar performance CNC-ported cylinder heads, Mopar performance camshaft and Mopar hi-flow headers.
2014 Dodge Challenger is additionally enhanced via Mopar's performance products, 20-inch Classic II forged aluminum wheels finished in Hyperblack II with a polished lip, electronic variable quick-dump side exhaust, front and rear strut bars and an adjustable suspension kit with a coil-over kit and stabilizer bar, black concept hood and side valence, along with a black fuel filler door, black hood pins and sequential tail lamps.
The optimized vehicles also include unique interior. In the case of the Challenger, its coupe was upgraded with Katzkin black performance leather seats and black performance leather door-panel inserts, Challenger's logo embroidered in bright red on the front leather seats, and red stitching on the seats, shifter boot and steering wheel.
Other details here include red seat-belt webbing and red carpet bindings, satin black and black chrome bezels, and gloss-black trim on the steering wheel, center stack, center console and door handles.
SCAT PACKAGE 1 5.7-liter
"Optimized" engine calibration – tailored to Scat Package 1
Mopar cold air intake
Mopar cat-back exhaust
Scat Package 1 badge
SCAT PACKAGE 2 5.7-liter
"Optimized" engine calibration – tailored to Scat Package 2
Mopar performance camshaft
Scat Package 2 badge
SCAT PACKAGE 3 5.7-liter
"Optimized" engine calibration – tailored to Scat Package 3
Mopar performance ported and polished heads
Mopar hi-flow performance headers
Scat Package 3 badge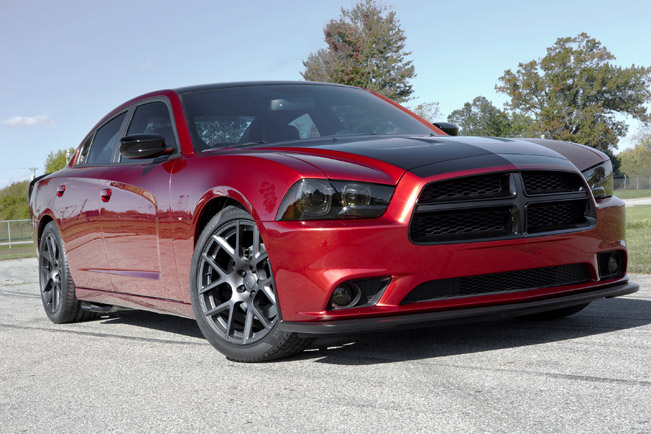 Next, the packages are being offered also for 2014 Dodge Charger. Also changed here are the 20 x 9-inch unique lightweight wheels, embellished with black Mopar center caps and a Hyperblack II finish. The body is also adorned by side valence, a unique front splitter and Redline rear spoiler.
The interior of the Charger includes Katzkin black performance leather seats, black leather door panel inserts with red leather Dodge stripes and red accent stitching, red seat-belt webbing, red carpet bindings, and red embroidered Dodge Charger logo in the front seats.
Other highlights that must be mentioned inside the car are the gloss-black steering-wheel spokes and black chrome on the door handles, cluster rings, instrument panel bezels, center console trim, and steering-wheel center ring, Mopar's bright pedal kit, pistol-grip shifter, door-sill guards, and advanced technology with a wireless charging pad.
Additional touches that supplement the Scat Package kits are the front and rear strut bars, an adjustable suspension kit featuring a coil-over kit and stabilizer bar and an electronic variable quick-dump side exhaust.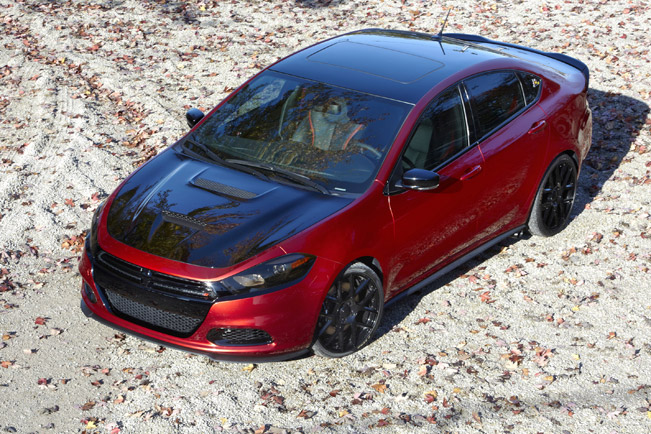 2014 Dodge Dart GT will be alos available with the packages. The vehicle is powered by a 184 horsepower 2.4-liter Tigershark engine with six-speed manual transmission. To go further into details, the Scat Package 1 provides great performance and handling improvements from Mopar through a cold-air intake, performance brake pads and a new short-throw shifter.
On the other hand, the Scat Package 2 adds more horsepower via engine calibration which works in conjunction with Mopar cat-back exhaust. The Scat Package 3 provides the ultimate package for those seeking optimal track times and in particular it includes Mopar big brake kit.
The latter comprises of 13-inch vented rotors, four-piston front calipers and stainless steel lines, performance suspension including adjustable springs for ride height, adjustable dampening struts and front and rear sway bars.
Mopar modifications that add beyond the Scat Package kits are the dual vented functional aluminum hood, Mopar side sills, chin splitter and rear diffuser, and a unique new three-piece decklid spoiler to boost downforce. The Dart rides on concept 19 x 8-inch lightweight gloss black wheels, accented with Mopar logo center caps.
The interior of the car includes door bolster inserts with a red border and red accent stitching on the seats, dash, armrest, wheel and shift boot are also found inside, along with red seat-belt webbing on the driver's side, red trim accents and premium floor mats with red piping.
What also can be found inside are the black chrome on the door pulls, HVAC bezels, and shifter cluster, while an array of Mopar accessories, including the bright-pedal kit, leather-wrapped shift knob, bright door-sill guards, molded cargo tray and wireless charging complete the interior.
SCAT PACKAGE 1 2.4-liter
Mopar cold-air intake
Mopar short-throw shifter
Mopar performance brakes, including slotted rotors and performance brake pads
SCAT PACKAGE 2 2.4-liter
"Optimized" engine calibration (premium octane)
Mopar cat-back exhaust
SCAT PACKAGE 3 2.4-liter
Mopar big brake kit with stainless lines
Performance suspension with adjustable springs and struts
Upgraded performance front and rear sway bars
Source: Dodge