2013 Dodge Charger AWD Sport Delivers 370 Horsepower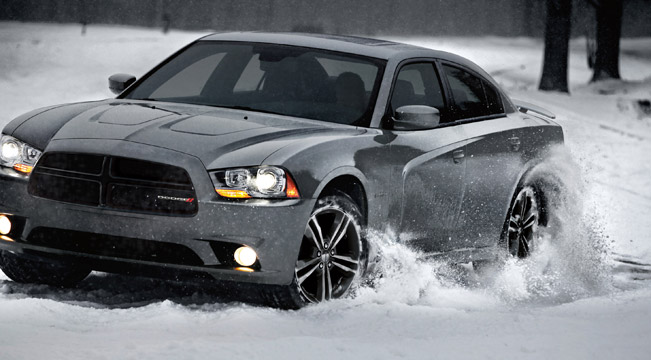 2013 Dodge Charger AWD Sport is being launched just on time and is going to combat the most inclement driving conditions. For this purpose it is equipped with new AWD Sport package. In particular it delivers two powerful engines with horsepower up to 370. In addition, it includes segment's most advanced all-wheel-drive system for best-in-class V-6 fuel economy, new "blacked out" exterior accents, AWD paddle-shifters with "sport mode".
The vehicle builds on the success of the rear-wheel drive and blacked-out styled Dodge Charger Blacktop. 2013 Dodge Charger AWD Sport will be available on the Dodge Charger SXT and SXT Plus AWD models.
Charger AWD Sport package offers includes the following: Gloss Black painted split-crosshair grille and grille surround, 19-inch polished aluminum wheels with Gloss Black pockets, all-season performance tires, the first application of steering-wheel mounted paddle shifters and sport mode transmission calibration in a Charger AWD, rear body-color spoiler and sport seats in black cloth (SXT and R/T), or premium black or red heated Nappa leather (SXT Plus and R/T Plus).
But this is not all. The new Dodge features the Beats Audio technology with a powerful 12-channel amplifier, three 3.5-inch speakers located in the instrument panel, two 3.5-inch speakers located in the rear doors, two 6 x 9-inch front-door woofers, two 6 x 9-inch speakers and a center-mounted 8-inch speaker located in the rear-shelf area, and an 8-inch Beats Audio trunk-mounted dual-voice coil subwoofer with sealed enclosure.
More importantly however is the featured 3.6-liter Pentastar V-6 engine. It now generates 300 horsepower (220 kW) thanks to the addition of a new sport-tuned dual exhaust system and cold-air induction system. And those who want to experience even more driving exhilaration, there is the option of the 5.7-liter HEMI® V-8 engine with 370 horsepower (272 kW), 535 Nm (395 lb-ft) of torque and four-cylinder mode Fuel Saver Technology. The Dodge Charger AWD Sport also can be configured from the Charger R/T and R/T Plus models.
Despite the huge power, both V-6 and V-8 models will include active transfer case and front-axle-disconnect system to improve real-world fuel economy. The AWD system in the Dodge Charger AWD Sport seamlessly transitions between rear-wheel drive and AWD with no driver intervention. When AWD is not required, the system automatically disconnects the front axle to maximize fuel economy while still providing the outstanding fun-to-drive performance and handling inherent in rear-wheel-drive vehicles.
At last but not least, the Dodge Charger AWD Sport includes paddle shifters and "sport mode." When the Sport Mode is active, the gear changes are quicker and revs are held higher for even more performance-oriented driving. For even more control, the driver can also use the die-cast steering-wheel-mounted paddle shifters and view gear election through the full-color EVIC centered in the Dodge Charger AWD Sport's instrument cluster.
Source: Dodge