2013 Dodge Dart iHeart Won by New Yorker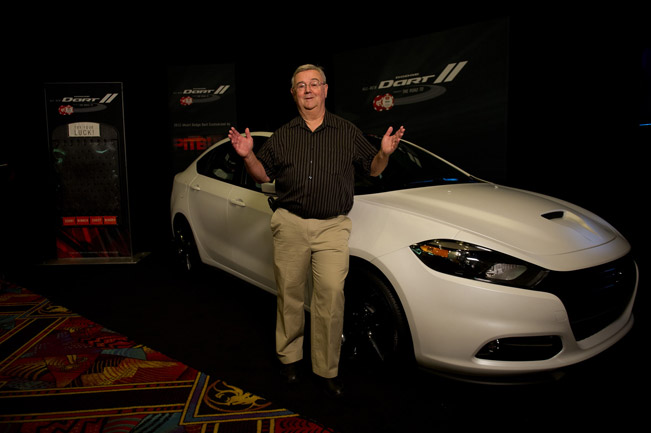 2013 Dodge Dart iHeart which was customized by the international recording artist Pitbull was part of a sweepstakes, where a proud New Your citizen won. His name is Jack Walters and he met Pitbull in order to receive the winning key of the impressive Dodge at iHeartRadio Music Festival in Las Vegas.
The unique iHeart Dodge Dart was in fact a collaborative effort by a team of Chrysler Group designers who provided Pitbull with a variety of options for the interior and exterior. He had also at hand advanced concepts so that he could create an aesthetic which communicated the essence of the Pitbull persona.
The inspiration of the final design of course was the tailored suit, classic sunglasses and the contrasting pin stripes of the recording artist. And so the iHeart Dodge Dart was born.
To be more precise, the one-of-a-kind Dodge Dart includes high contrast matte white exterior and black roof, custom liquid graphite 18-inch aluminum wheels, and black and pearl white leather and suede interior, complemented by tasteful metals to evoke a classic yet casual sophistication.
In addition there was also included a hood scoop and rear spoiler. They add an element of mysterious strength of the car. In this way the car undoubtedly conveys class-leading style and within its inherent roominess and technology.
Source: Dodge