2013 Dodge Dart with Mopar Accessories and Performance Parts
No surprise is that the all-new 2013 Dodge Dart will arrive in the showrooms later this year. However the great news is that it will offer more than 150 different accessories and performance parts all delivered by Mopar®, from which the customers can choose. The aim here is to deliver to the customers even more customization and personalization.
To have a glimpse over what is going to be offered by Mopar, we have made a selection of the most attention catching and performance parts for the all-new 2013 Dodge Dart. First, let's begin with the Performance Styled Hood. This is a carbon fiber scooped hood, designed to give the vehicle an aggressive and sporty appearance. Next comes the Performance Braking Upgrade, which features upgraded calipers, rotors and performance pads to provide increased braking power. In the Unique Grille chrome aluminum, replaces production grille below the bumper to provide a unique appearance. Mopar also offers Grille Cross-hatch Insert – a carbon fiber-style finish, which attaches to Dodge cross hatch over grille area, perfect for enhancing the "tuner" image. Next are the 18-inch Wheels with a unique Mopar design, polished spokes and black-painted pockets. There is also Rear-air Diffuser. It is in Matte Black attached to the rear fascia to provide a unique look to the rear of the vehicle. It was designed to coordinate with Chin Spoiler. A Front Fascia Appliqué includes chrome-plated appliqué slides over front/center bumper area to provide a bright front-end appearance. In addition a Front Chin Spoiler, which is in Matte Black, attaches to front fascia to give more aggressive look to the front end. Of course there are also Side Sills, again in Matte Black, which are attached to side rocker panels to provide a sportier appearance. They have also been designed to coordinate with Front Chin Spoiler and Rear-air Diffuser. All that - only in order to provide unique appearance. The Rear Deck Lid Spoiler is also in Matte Black, and also attaches to rear deck lid for a sporty appearance. Furthermore there is a Chrome Fuel Door, which was made of chrome aluminum and replaces the production fuel door. In details it coordinates with Chrome Mirror Covers and stainless steel B-pillar appliqué. And these Chrome Mirror Covers are also chrome-plated. They replace the production mirror cover. Next, the B-Pillar Appliqué is made from polished stainless steel; it is attached to the b-pillar area and enhances the appearance of the vehicle. The Pedal Kit has the unique bright finish – it has to be attached to gas and brake pedals to enhance driver's foot well appearance.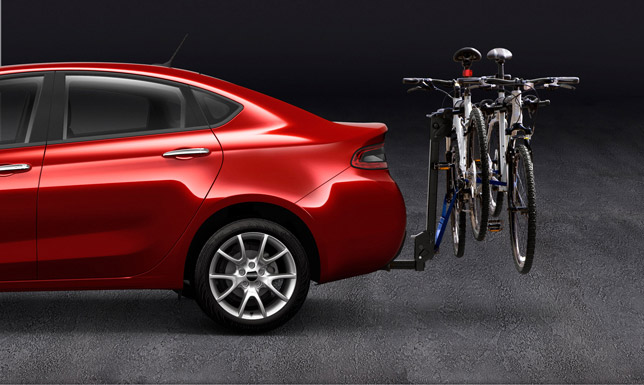 An important highlight to be mentioned here is that Moper also offers the unique Industry-first Wireless Charging. In details, battery-powered devices can be now charged with this new system. It also allows driver to set electronic devices in a specified charging zone and charge without wires. This is accomplished by creating a virtually invisible charging zone in the vehicle instrument panel or center stack. Energy is then transferred from the charging pad to the device battery, utilizing a compatible device-specific case. Moreover Mopar also offers Industry-first Wi-Fi. It allows owners to utilize electronic devices as far as 150 feet from the vehicle. In this way each passenger may separately access the Web on the go. On the other hand in the vehicle there is also mounted router which receives 3G broadband Internet.
Another impressive feature offered by Mopar in an Electronic Vehicle Tracking System (EVTS). This Mopar system is powered by Guidepoint Systems, the leader in GPS-enabled stolen-vehicle recovery systems. Unlike other vehicle-tracking systems, the Mopar EVTS offers.
Source: Dodge