Dodge Dart Race Car
Dodge and SRT Motorsports has revealed the all-new 2013 Dodge Dart rally car, which will be piloted by four-time Rally America Champion and 17-time X Games Gold Medalist Travis Pastrana. He will compete in the 2012 Global RallyCross Championship (GRC) Series.
"At Dodge, racing is an integral part of our heritage and embodies our competitive spirit, so we're very excited to announce the next chapter in racing for Dodge with our all-new Dodge Dart," commented Reid Bigland, President and CEO - Dodge Brand.
"The new Dart Global RallyCross Championship car with 600 horsepower and driver Travis Pastrana takes our passion for performance to all new heights.", he added.
Travis is very popular athlete and one of the most appreciated from the motorsport fans. He had over 6 million Google searches in 2010 and more than 3.5 million Facebook followers. He is just 28 years old and we hope that the upsurge in his career will continue.
"When I first heard about GRC, I was really interested, and after watching some of the rounds last year and then actually competing at X Games I was hooked!" said Pastrana.
"Now to be able to partner with Dodge to field my own program this year is a dream come true. The new Dodge Dart offers the perfect platform for rally cross, and I look forward to putting it on the podium all season long!", he mentioned.
Dodge Dart is powered by a 2.0 liter four-cylinder turbocharged petrol engine with 600HP (441 kW) and 745Nm (550 lb-ft) of torque. All that power is sent to the road through a Sedav 4-wheel drive gearbox.
Global RallyCross is a spin-off of the X Games rally races. It combines the skill of rally racing with the excitement of X Games. The revolutionary motorsports series enters its second season and features high-flying extreme competition between cars that are relevant to today's youth. The series consists of seven racing events in closed-course rally tracks and incorporates bumper-to-bumper competition among 600 horsepower all-wheel drive vehicles. There are 70-foot jumps over racing traffic, creating a "motocross with cars" action.
The series begins May 26 in Charlotte, North Carolina, and concludes Sept. 29 in Las Vegas. Also included are races at X Games scheduled for June 30-July 1 in Los Angeles. It's one of the most anticipated stops on the schedule. The ESPN family of channels will broadcast live coverage of the entire 2012 race series.
Check out the 2012 calendar below.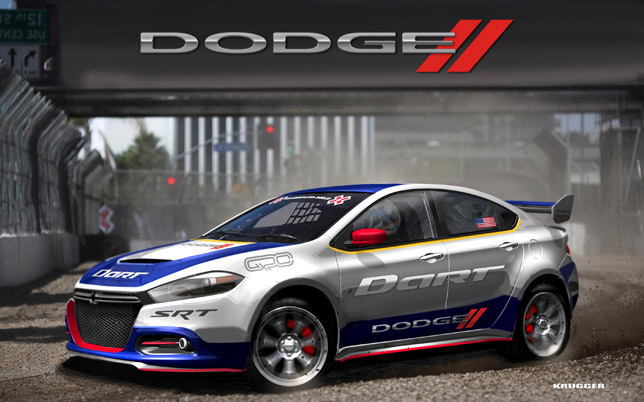 2012 Global RallyCross Race Schedule:
May 26 – Charlotte Motor Speedway
June 10 – Texas Motor Speedway
June 30 – X Games, Los Angeles
July 1 – X Games, Los Angeles
July 14 – New Hampshire Motor Speedway
Sept. 1 – TBD
Sept. 29 - Las Vegas Motor Speedway
Source: Chrysler