Dodge Durango Special Service
If you are contemplating a local bank robbery, make sure the police force at your area still hasn't received its batch of specially made Dodge Durangos. They will be designated by the term "Special Service" and, much like the Dodge Charger Pursuit, will serve the law enforcement or, by choice, the fire department or any other fleet out there. Either way, we are looking at a lean, mean machine, designed to rule over all sorts of terrains and offer as much versatility as possible.
A standard Dodge Durango comes with two engine choices: A 3.6-liter Pentastar V6 delivers 290 bhp and a range of 550 miles on a single tank. Then there's the upper edge HEMI V8 with 360 bhp and the healthy 390 lb.-ft. of torque. The former has a towing capacity of 6200 lbs while the latter – 7400 lbs. And that load will cling on as standard equipment includes Trailer-sway Control.
The Special Service Durangos come with this very same engine choice with the possibility of being either RWD or AWD. But because the cargo area here is custom made to fit the needs of whomever might be using it, several performance components had to be beefed up - the breaks are new, there's a heavy-duty battery now and a larger alternator. The water pump and engine oil cooler have also been replaced.
Standard Durangos already have 30 storage areas scattered around but the Special Service vehichles offer even more diversity - under-floor storage compartments and additional storage in the side compartments. Also, one might find service interior dome lamp and headliner and spot lamp wiring prep as additional extras. The otherwise commonly present third row of seats has been sacrificed, but it is all for the better good.
Since Servicepeople already put their lives at great risks, why not offer them some sense of security inside at the very least. That's why these Durangos come with a full package of safety features such as Electronic Stability Control (ESC), electronic roll mitigation (ERM) and Hill-start Assist/ There are seat-mounted and side-curtain air bags in the front row. The side one reaches out for the second row as well, and the third, non-existent one.
Chrysler Group fleet operations will start taking orders now, with deliveries expected to begin in the second quarter of 2012 so fugitives for now will still have some room to breathe. However, just by looking at the gallery here, I already feel discouragement of indulging myself into a life of crime.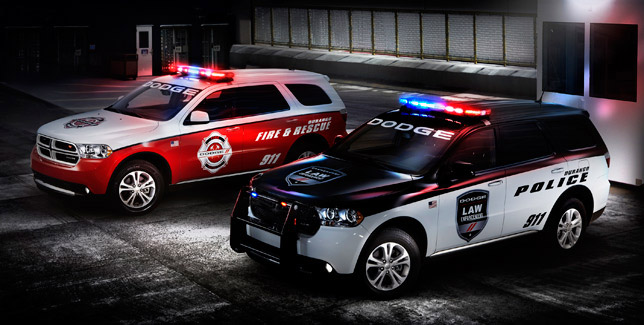 Source: Chrysler LLC