Dongfeng Nissan Introduces Venucia R30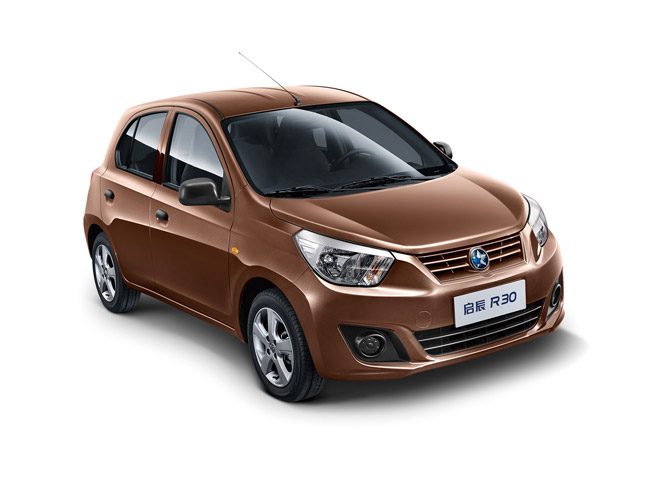 Venucia is an entirely new brand which enters its fourth production model called R30 at the Chinese market. Venucia is a product of the Dongfeng Nissan Passenger Vehicle Company (DFL-PV). The R30's development was based on Nissan's global platform and will be specifically built for the Chinese market. R30 aims to attract buyers in terms of affordability and quality.
Its cockpit is generous: it has a wheelbase of 2450 mm and exterior dimensions of 3775 x 1665 x 1530 mm. The car is powered by the 1.2-liter HR12DE engine. It is powerful but at the same time has similar fuel consumption to most of its peers, which have 1.0-liter engines. Furthermore, the R30 is agile enough delivering a minimum turning radius of 4.5 m. In addition, it features a stable suspension and chassis.
Venucia R30 is based on the Micra model. It has been given brand new luxury dashboard, new steering wheel, console with instruments and different centre consol. Nevertheless, the circular AC vents and the basic layout are the same as Nissan's model.
Furthermore, the car gets seats with integrated headrests, dual front airbags and a music system. The exterior silhouette of the R30 is similar to this of Mirca. However, there are some substantial changes done to the front and rear fascias.
The brand name Venucia is very special and its name is derived from the ancient Roman goddess "Venus". Her functions encompassed love, beauty, fertility and prosperity. The five stars of the brand logo represent company's five promises. They are the following: respect to customers, creation of value, always doing the best, achieving world-class quality and constantly seeking the dream.
Source: Nissan