Edag Luv Sketch
On 7th March, 2007, the cry of "Cast off!" will go up in Geneva for the "EDAG LUV", the lat-est concept car of EDAG Engineering + Design AG. Conceived as a niche vehicle, the LUV presents a maritime appearance from its bows to its stern, and is targeted at customers who are not looking for just an ordinary car, and who appreciate something more distinctive.
Oiled teak on the bonnet, inside as the floor covering , and again on the elegant loading plat-form, gives a nautical flair. The dimensions of the "EDAG LUV" are also imposing. Taking as their basis a high end SUV, the EDAG Engineering + Design AG designers and engineers have constructed an LUV with an impressive overall length of 5.70 metres. Over 2 metres wide and 1.80 metres high, the "EDAG LUV" is a real eye-catcher. Behind the two rows of seats with ample space for 5 passengers, there is a teak-covered loading platform. This, in keeping with the maritime look of the concept car, has the distinct air of a quarter deck. Retractable clamps mounted in the teak flooring provide the owner of the "EDAG LUV" with the same kind of practical means of securing loads found on ships and boats.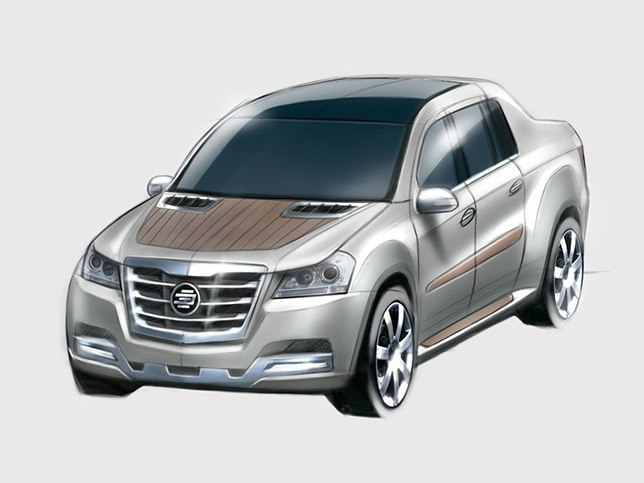 "LUV", the name of the concept car, is also a German nautical term, meaning "luff": Apart from this, however, the term also defines a new vehicle segment, namely the Luxury Utility Vehicle. The harmonious lines of the body's design enable the loading platform and passenger cell to be joined together so elegantly that the utility vehicle character frequently manifest in pick-up models is no longer evident.
"LUV": A new vehicle type which, with its originality, size and elegance, has clearly been de-veloped by EDAG as a niche vehicle for a target group who prefer vehicle concepts which diverge to one side or the other of the mainstream.
The entire project, from the concept defining stage, through the design process and devel-opment, culminating in the ready-to-drive prototype, took just three months to complete, and is ready for conversion into a premium edition. With the EDAG LUV, the world's largest, in-dependent engineering partner has once again demonstrated its abilities as an all-round developer – from concept to production readiness. The "EDAG LUV" is an example of how, with an economically acceptable outlay, it is possible to transform a model for volume pro-duction into an independent niche vehicle.
EDAG is currently in close contact with prestigious vehicle customising companies, looking into the possibility of a potential "launch" of the "EDAG LUV".
Source: Edag