Edo Ford GT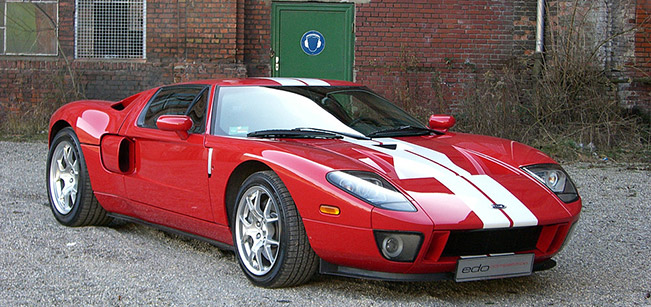 Increased performance up to 60 HP with: Sport catalyst 200 cell, electronic tuning. All work controlled by dyno running. Sport back box stainless with flap system. Loudness of the exhaust adjustable.
New taile pipes stainless
Carbon fibre engine bay panelling, 3-pieces
Special rear wing
Wheels in different colours and designs available
tyre-air-pressure control system shows pressure and temperature per wheel
Design modification outside for example complete different colour.
Independently adjustable dumping technology – rebound and compression dumping
Racing wheels in different designs and available.
Technical data
engine type DOHC, 4 valves per cylinder, supercharged V-8 horsepower @ rpm approx. 610 HP @ 6.500/min torque @ rpm approx. 800 Nm @ 4.500/min
Power train
top speed > 340 km/hp 0 – 100 km/h approx. 3,7s (3,9 s serial)