EVR Proto VX-101 Rally Raid Concept To Enter 2014 Dakar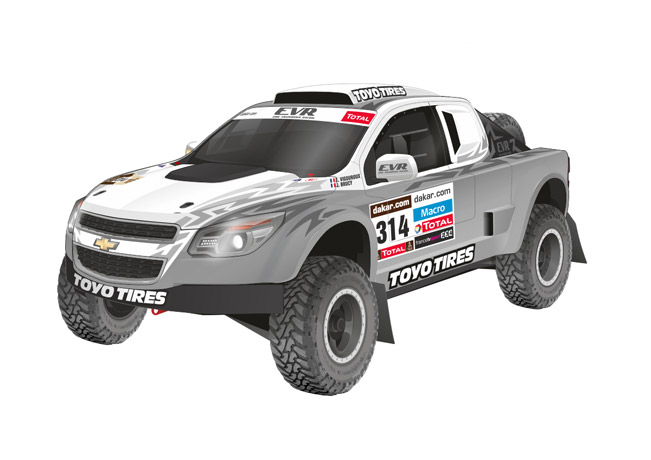 Eric Vigouroux Racing has two developed pickup trucks which are going to be featured in 2014 Le Dakar. The specialists have worked in close collaboration with Jefferies Racing. At the rece, the experienced Dakar pilot Eric Vigouroux will team up with American off road racing ace 'Ballistic' BJ Baldwin.
The vehicle carries the name EVR Proto VX 101 Rally Raid Concept which is the latest and technically most advanced desert racer. It is powered by a LS7 Corvette Racing engine mated with a Fortin sequential gearbox.
Eric Vigouroux has reced in the past several seasons with Chevrolet Silverado and has achieved top honours. His experience and this of Jefferies Racing resulted in the development of a totally new race truck. In fact, the 2014 Dakar will be the first real competition for the EVR Proto VX 101 Rally Raid Concept vehicle. However, the team aims to show excellent results.
Another interesting fact is that Eric Vigouroux, who is a veteran off-road racer, has won almost every rally he had entered the last four years. In 2010 he became FIA World Cup Champion in the 2WD category and last year Eric was the overall winner of the 2012 Rally of Morocco. BJ Baldwin on the other hand is also a well-known rally raid driver in the USA, who holds four championships in the last six years with several race wins including the Baja 500.
Source: Eric Vigouroux Racing