Ex-Brunei Royal Family XJ220 Offered By Silverstone Auction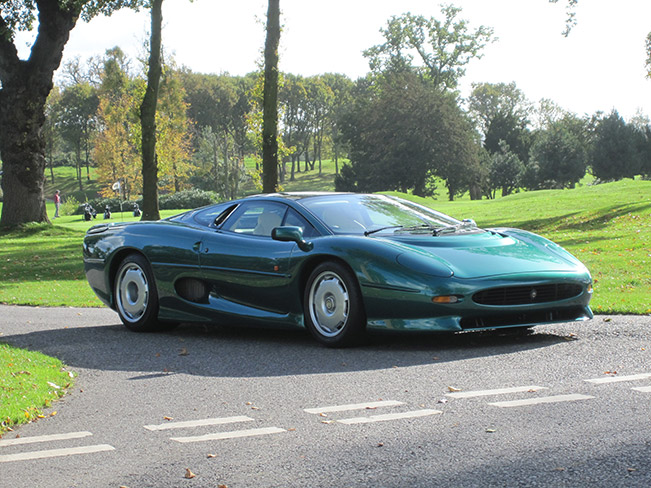 It will be considered a sin if one makes a list of 1990s supercars and does not mention the Jaguar XJ220 there. The very special, specious, and, more or less, degenerated coupe (of course when it is compared to 2015 Renovo Coupe for instance) still manages to fascinate the imaginations of collectors around the world. Perhaps the bittersweet history of the car has a role in this established old-fashioned splendor that springs out of the XJ220 model. With its outdated and yet salient characteristics, the supercar remains an icon which demands respect. That is indeed a car for a Royal family… Or, at least, it used to be.
Now let me take you back in time. In 1988, Jaguar automobile company revealed a concept car that was supposed to be powered by a 530-hp V12 engine. Yet, until the time when rolling prototypes started being made, there occurred slight changes. The initially planned V12 engine was replaced by a new V6 with the promise of more than 200 mph top speed. Nevertheless, the XJ220 would end up being equipped with a 542-hp 3.5-liter twin turbocharged V6 engine mated to a five-speed manual gearbox driving the rear wheels. With 0-60mph acceleration in the screaming 3.5 seconds and a top speed of 213mph the XJ220 was considered to be the fastest road car back in the day even though its fame and glory only lasted for a short period of time.
The car has now covered just less than 6,000 miles and is supported by MoT certificates dating back to 2002. Moreover, Silverstone Auctions estimates this 1994 Jaguar XJ220 to bring between £200,000 and £220,000 on auction day, or between $322,000 and $355,000.
Something quite exciting is that such beauty also exists in Bulgaria. The modified version by Overdrive has the modest price of 400 001 euros (about $544 300 and £300 000).
Source: Silverstone Auctions