Jaguar XJ220 20 Years Later
It has been 20 years since the first XJ220 rolled out from it's own factory in Bloxham and even by today's standards it still is a masterpiece. In 1992, the fastest one could go was 213 mph, in an XJ 220. That threshold is a challenge for today's M5.
Originally conceived as a concept car, designed by Keith Helfet, the XJ220 was showcased on the 1988 British Motor Show. It was the kind of concept that nobody believed that it would be built but an year later production was given a green light and the TWR company was appointed as a partner.
The XJ engineers started off with some goals and then set on to build the car that can meet them. The ideas back then were visionary, daring and some even sounding impossible – it had to be light, it had to be RWD and it had to do 220 mph (hence the name XJ220). The obvious thing to do to reach such heights in velocity was to throw in a gigantic engine and let it do its job. However, fitting a V12 proved tricky (mechanically) and also because of the emissions regulation there was no way for this car to be street legal and that powerful if it were with 12 cylinders. The next best thing was turbocharging – two massive Garrett T3 turbines were bolted on the modest 3.5 L, V 6 engine and the end result was just mesmerizing: 550 PS and 475 lbs ft of torque surging trough a 5-speed gearbox and space devouring 345/35 Bridgestones. Other highlights included the AP racing twin-plate clutch and AP disc brakes with four-pot callipers. They were a bit of a handful for the ordinary everyday driver for one had to be fairly built to operate them but it all worked as charm nevertheless.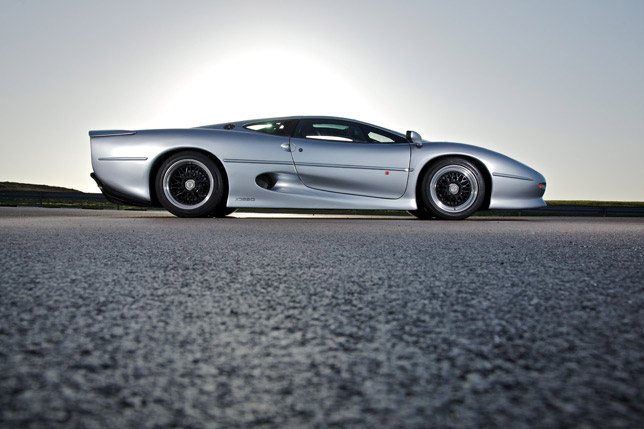 Despite the positive reaction of various critics and motoring enthusiasts, the XJ was a commercial failure. Production ceased in 1994, by which time only 275 cars had been built. The price was a bit too steep (740 861 U.S. Dollars) and undoubtedly it was hard to live with.
The point of this car however, was to prove how with the apt engineers of Jaguar, there are no boundaries. The silver car in attendance at the recent Jaguar Experience Day held at the Heritage Motor Centre, Gaydon is chassis 004, one of 10 pre-production vehicles. This example was used for extensive tyre and high speed testing at Fort Stockton, Texas, in 1991. Andy Wallace achieved a maximum speed of 213 mph in the car during the testing process.
The XJ220 S was another daring project which was basically built from scrap (Le Mans spare parts really). It had single-piece carbon fibre front and rear clamshells, tweaked suspension and a claimed power of 700 PS. Inside the otherwise luxurious trim was sacrificed for the sake of Kevlar bucket seats and carbon fibre panels. It was a true sporting breed. And today it is a classic on top of that.
Source: Jaguar