EXCLUSIVE: Pininfarina Sergio Concept Revealed [VIDEO]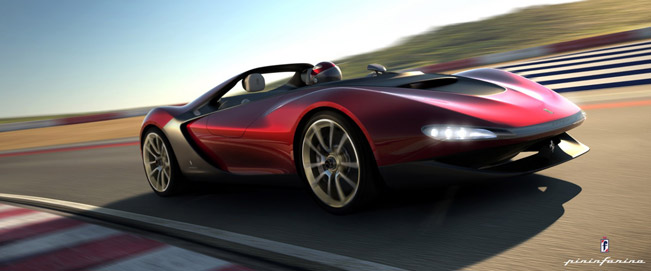 Pininfarina Sergio Concept which has been shown as a sketch few days ago is now making a debut at the Geneva Motor Show. The name Sergio is inspired by the man who led Pininfarina for 40 years and conceived some of the greatest car legends.
The new concept car celebrates the Life of Senator Sergio Pininfarina. The model is a two-seater barchetta with very compact, very sporty, racy, pure and sensual qualities. It is an exercise that Pininfarina decided to undertake on Ferrari 458 Spider mechanicals.
The revisited volumes and surface treatments emerge through the Sergio, which evokes the spirit of Pininfarina's best achievements for Ferrari of the '60s and '70s. In addition, this is a real open air car, and it doesn't have a cupola fitted to protect occupants. Therefore there are provided two helmets.
Furthermore, the Sergio is charactarized by a very simple and clear style. As one sees it, its proportions are pushed to the extreme, its dynamic front volume penetrates into a rear that is projected forward. The design principle here can be seen through the composition of the two body masses through a longitudinal black insert.
The aesthetics of the model are enhanced through the front semi-floating development with the spoiler under the front. This at the same time serves as a functional for the stabilization of the aerodynamic load and the heat exchange.
A virtual windscreen is also created by the aerodynamic deflector in front of the cockpit. In addition, the roll bar which is made like a wing surface is tuned excellently to the evolution of the flow coming from the front, adding a further down force effect.
At last, the rear holder and the extractor finish the design in a very functional manner. Here even the rear-view mirror takes on a fluid form that helps to divert air from the heads of the passengers.
Some important numbers for the Pininfarina Sergio Concept:
Maximum length: 4550 mm
Maximum width: 1940 mm
Maximum height: 1140 mm
Boot capacity: 110 litres
Power train (original Ferrari 458 Spider): 4499cc V8; Sequential gearbox 7M + RM
Package: 2 doors, 2 seats
Chassis: original 458 Spider
Cx XS: about 5% lower than the original car
Weight: about 1280 kg
Maximum speed: approx 320 km/h
Acceleration from 0 to 100 km/h: less than 3.4 seconds
Video Source: YouTube
Source: Pininfarina