One-off Ferrari Sergio Arrives in UAE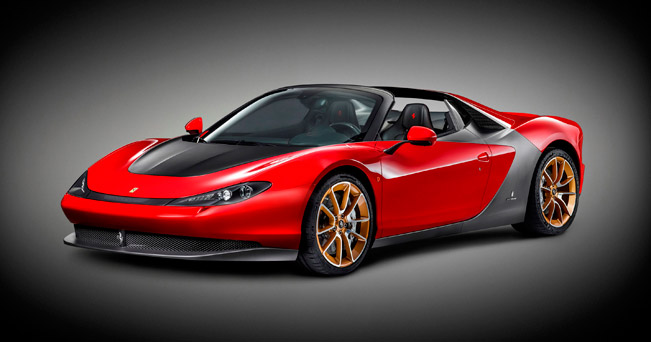 The first Ferrari Sergio has just been delivered to its proud owner in the United Arab Emirates. This makes it the first Sergio to arrive in the UAE. The supersports car has been designed by Pininfarina and more importantly, only six of this limited edition roadster will be ever built. The model was introduced as a concept at the Geneva Motor Show in 2013 and it comes to celebrate the spirit and core values of the historic Cambiano company in the 60th anniversary year of its collaboration with the Prancing Horse.
The name Sergio was the only possible choice, because it pays homage to great Sergio Pininfarina. The Ferrari Sergio is both exclusive and spare. What I mean is that every single element aboard is focused entirely on performance.
To get more precise, it features an authentic open-top and great driving dynamics. In fact, the car is based on the 458 Spider and has kept its technological content as well as its functional aspects of its cockpit.
This basically means that it is powered by Ferrari's naturally aspirated 4497 cc V8 which produces 605 hp (445 kW). The engine ensures a sprint from 0 to 100 km/h in just 3 seconds.
Sergio has also an extremely simple and clear style, which reflects the spirt of Pininfarina's 1960s and 70s creations for Ferrari. For instance, the front of the car seems to penetrate the rear which itself projects forward. The two bodyshell masses are melded together via a longitudinal black insert.
The flank also gets the same black longitudinal element which serves as both a dividing and unifying element between front and rear. The two sections of the car flow effortlessly into one. Furthermore, there is a semi-floating development of the front spoiler beneath the bonnet which balances downforce and optimises heat exchange. The roll-bar is a modern take on the classic Ferrari flying buttress and negative rear window.
At the front we see classically-shaped headlights. While at the back, there are circular tail lights, which is another modern nod to Ferrari history. The two-tone theme continues on both the front bonnet and rear deck. The latter gets the iconic circular air vents typical for Pininfarina's design.
This example, delivered in UAE, has three-layer red exterior paintwork as well as an extremely sporty cockpit with black leather upholstery with contrasting red stitching. The interior alsp gets Alcantara seat inserts, and extensive carbon dash and door well trim.
We forgot mentioning these special gold Sergio-specific forged wheels that are painted with a diamond finish.
Each one of the six Ferrari Sergios is absolutely unique, because it was configured by its owner. The result is exclusivity down to the tiniest detail which continues the tradition of creating bespoke cars minutely tailored to each client's wishes.
Source: Ferrari