EXUBERANCE: D2Forged Porsche 997TT CV13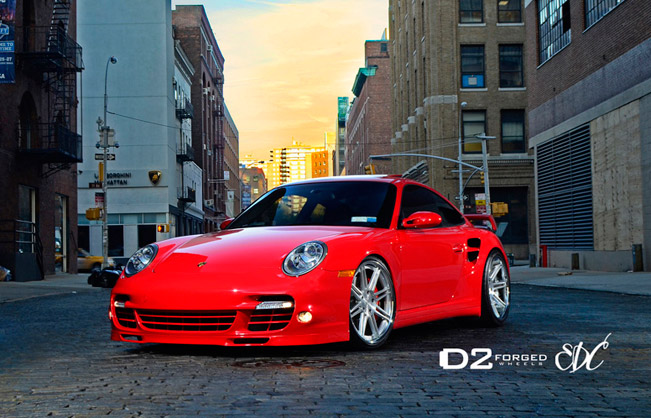 D2Forged Porsche 997TT CV13 comes to bring about its exquisite character thus making the fans even more excited of what it has to offer. Its exuberant red skin and its thirst for speed and acceleration is undoubtedly what makes everyone inpatient for the summer days and nights. And in addition being a true Porsche, this car will take anyone's breath away.
In particular the 997TT is powered by a six-cylinder 3.8 liter boxer engine, which is able of generating 500 horsepower (370 kW). The unit is mated to a manual seven-speed PDK dual-clutch gearbox. Therefore whit this amount of horsepower this D2Forged-tuned vehicle can accelerate from standstill to 100 km/h in just 3.4 seconds on its way to a top speed of 194 mph (312 km/h).
To go even further into details, this is D2Forged's latest multispoke creation and it is namely equipped with company's CV13 Wheels. In fact, for the front the tuners have utilized Shallow Concave in size 20×9", and for the rear - Deep Concave in size 20×1". Both front and rear wheels include brushed aluminum finish with chrome lip and a gloss black inner barrel.
Source: D2Forged Wheels